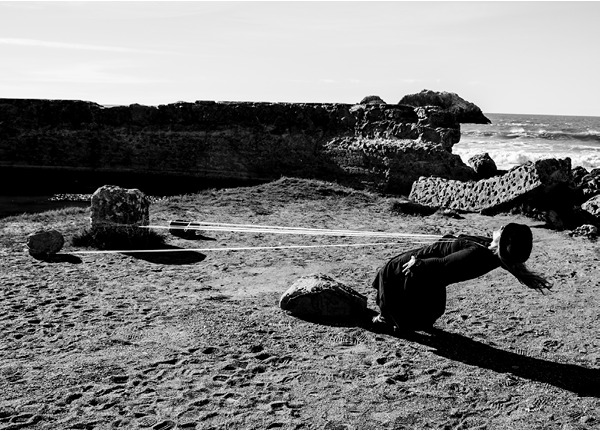 Alex Nichols
STRINGS ATTACHED
first performed on December 31, 2018
Sutro Baths, San Francisco, CA
performed once in 2018
ALEX H NICHOLS
San Francisco, CA
212267890a212267890l212267890e212267890x212267890h212267890n212267890i212267890c212267890h212267890o212267890l212267890s21226789022122678902212267890@212267890g212267890m212267890a212267890i212267890l212267890.212267890c212267890o212267890m
alexhnichols.com
STRINGS ATTACHED
ALEX H NICHOLS
Suspended in this performance are two desires. The desire to stay safe. The desire to break free. Fall, get back up. Fall again, get back up. At the edge of pain and fear is the clarity of who we are.
In "Strings Attached," eleven strings are tied to three rocks, becoming the counter force to examine the pain and fear attached to our identities as we grow. The strings are attached to the rocks at one end and at the other end they are tied together at the base of the neck. The strings seem precariously thin laid out over the sand. The boulders are heavy and take time to roll into place.
When the strings are ready they are placed behind my neck and I begin. Keeping the body rigid like a plank, I lean back and the tension increases. Here is a woman suspended at an impossible angle. A girl nearby asks her father what is happening.
I hit the ground and get back up. Every time I begin to lean I hesitate at a certain point, beyond this point the possibility of falling is inevitable, the strain against the neck is intense, I am acutely aware of my urge to stop. I lean harder.
So what am I asking myself? What does it mean to be me? What am I capable of? How can I live my life to its fullest—boldly, playfully.
Strings can represent many things. Roles of a woman, an artist, a mother, a wife. Relationships to others, relationships to self. What does it mean to say "no strings attached" or to break those strings? What am I without those strings?
The context is a female body, and the seemingly unmonumental act of a woman performing alone in the abandoned baths at the edge of the ocean. That ocean funnels into a bay and is spanned by the incredible monumentality of steel and cable that makes the Golden Gate bridge. The performance plays physically with the tensions of being ourselves. What I learn is something I understood clearly when I was a child building sand castles and forts. I am stuck with me.