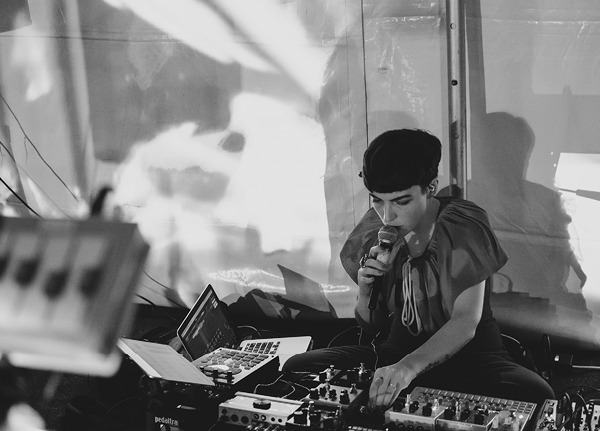 Edgar Garcia
SOAK/SATURATE
first performed on December 7, 2018
Performance is Alive at Satellite Art Show, Miami, FL
performed once in 2018
DRUM & LACE
Los Angeles, CA
148278415h148278415i148278415@148278415d148278415r148278415u148278415m148278415a148278415n148278415d148278415l148278415a148278415c148278415e148278415m148278415u148278415s148278415i148278415c148278415.148278415c148278415o148278415m
drumandlacemusic.com
SOAK/SATURATE
DRUM & LACE
"soak/saturate" is an interactive immersive quadraphonic audio performance and installation that explores this idea by allowing the listener to create their own soundscape, all while ambient textures are performed (live) to set the tone. The audience could interact with the installation by using a slider controller that controlled the volume level of specific natural and man-made sounds. Every moment of the ambient performance is improvised, and no moment will ever sound exactly the same as another.
The immersive element of the installation is created by using four speakers (quadraphonic) to envelop the listener. Sounds are placed and moved around in each speaker, creating a sense of spatial 3D sound.
When performed indoors (or in an enclosed space) an added element of a projected video loop of water or cityscape (depending on what audio channel is selected by the participants) is added to further immerse the listener.
The piece revolves around field recordings, voice, recorded instruments and tones. The field recordings of nature were recorded at various bodies of water (France, Los Angeles, Greece) and reflect nature in its purest form. The city field recordings were recorded in Los Angeles, Milan, New York, and Florence.
"soak/saturate" was created with the hope of bringing awareness to the sounds that surround us everyday, and making us aware of our sonic footprint on the environment. By using field recordings from both natural water-bound locations and bustling cities, the listener is encouraged to test their own level of comfort and familiarity with the two contrasting-yet-coexisting environments.