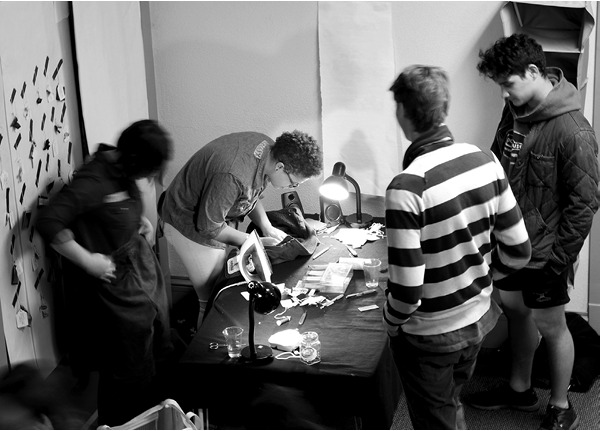 JJ Gregg
IN FLUX
first performed on December 6, 2018
Willamette University, Salem, OR
performed once in 2018
CAYLA SKILLIN-BRAUCHLE / CHLOE A. LAWTON
Salem, OR
122453421s122453421k122453421i122453421l122453421l122453421i122453421n122453421b122453421@122453421g122453421m122453421a122453421i122453421l122453421.122453421c122453421o122453421m
caylaskillin-brauchle.com
IN FLUX
CAYLA SKILLIN-BRAUCHLE / CHLOE A. LAWTON
During "IN FLUX" Cayla Skillin-Brauchle and Chloe A. Lawton traded participants the tags from their clothing for custom made tags with Fluxus scores that suggested alternative ways to think about or use their clothing in future. The following Fluxus scores were written for this event:
STRETCH THIS GARMENT UNTIL IT TAKES UP ALL THE SPACES YOU NEED. IF IT CAN'T HOLD ALL OF YOU, FIND A LARGER GARMENT.
TREAT THIS GARMENT AS A BOAT, AN UMBRELLA, A MOP, A WIG, A TABLE CLOTH, A BASKET, A PILLOW, A MAP, A FLAG, A FRIEND. EFFECTIVENESS MAY VARY.
FEEL YOUR CLOTHING AGAINST YOUR SKIN, FEEL YOUR SKIN AGAINST YOUR BONES. WRAP YOUR GARMENT WHERE YOU FEEL WORN AND THREADBARE. TRY TO MEND FLESH WITH CLOTH.