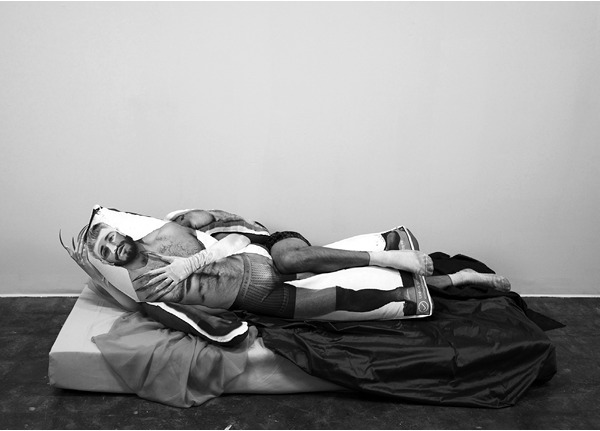 Nathaniel Dean Mondragon
MY HIDEOUS PROGENY (BODY PILLOW)
first performed on December 4, 2018
Aqua Art Miami, Miami, FL
performed twice in 2018
NATHANIEL DEAN MONDRAGON
Atlanta, GA
118350446m118350446o118350446n118350446d118350446r118350446a118350446g118350446o118350446n118350446.118350446n118350446a118350446t118350446h118350446a118350446n118350446@118350446g118350446m118350446a118350446i118350446l118350446.118350446c118350446o118350446m
nathanielmondragon.com
MY HIDEOUS PROGENY (BODY PILLOW)
NATHANIEL DEAN MONDRAGON
"My hideous progeny (body pillow)" was developed as a performance and installation as part of Aqua Art Miami.
The installation consists of a body pillow laid across a twin bed. In this piece, I reimagine the myth of Dr. Frankenstein and his monster as a queer relationship between artist and art object. The soft sculpture serves as a surrogate for a mate in the form of a five-foot-tall body pillow. In building this work, I collected screenshots of various body parts from user profiles on LGBT social networking apps Grindr and Scruff and constructed a digital composite of an idealized man. I printed the composite on faux suede in order to make something digital become physical. The texture of the surface invites touch, emphasizing the desire for intimacy beyond the screen. The soft sculpture functions as a talisman, initially charged by seven nights of spooning and further charged by subsequent live performances.
In the performances, I lay with the body pillow in various poses. At first, I am fully dressed and lay with it tenderly. In the second half of the performance, I strip down to my underwear and put on a pair of altered satin gloves, which serve to heighten the body pillow's talismanic function. I squeeze and release it to the rhythm of my own breath, animating him as my breath becomes his. At times, I am behind him, his image facing outward. My arms, gloved hands, and legs wrap around his body, collaging into his. I climb on top and push my hands down into him with my weight, asserting control over his talismanic form. At the end of the performance, I lay directly on top of him with my head against his chest, and we rest together.