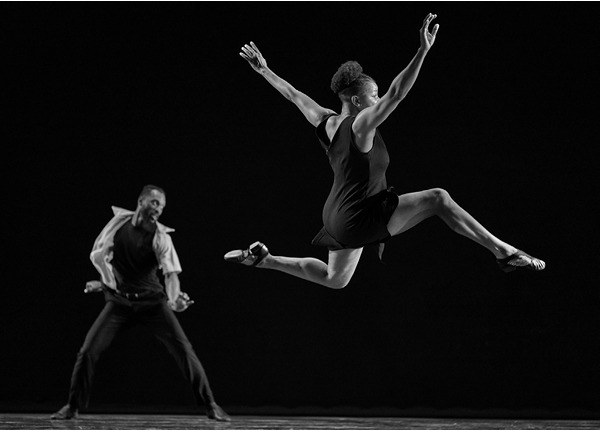 George Simian
FREEDOM! JAZZ! DANCE!
first performed on December 1, 2018
Nate Holden Performing Arts Center, Los Angeles, CA
performed once in 2018
PAT TAYLOR / JAZZANTIQUA DANCE & MUSIC ENSEMBLE
Ava Dupree, Peter J. Harris, Paul Legaspi, Ark Sano
Los Angeles, CA
098876226i098876226n098876226f098876226o098876226@098876226j098876226a098876226z098876226z098876226a098876226n098876226t098876226i098876226q098876226u098876226a098876226.098876226o098876226r098876226g
jazzantiqua.org
FREEDOM! JAZZ! DANCE!
PAT TAYLOR / JAZZANTIQUA DANCE & MUSIC ENSEMBLE
In 2015, I began a performance trilogy project titled breath, fueled by a passion to reconnect Black folk in particular to a forgotten jazz language. This produced evening length works in 2016 and 2017, with the final installment "Freedom! Jazz! Dance!" premiering in 2018.
"Freedom! Jazz! Dance!" is a melding of live and recorded jazz music, dance, spoken word and song presented as eight works that can stand alone, but here are interwoven to create a sense of journey, conversation and continuum. This exchange of energy transcends the stage realm, creating an underlying sensation of the West African tradition of call and response, inviting the audience in as participants in propelling the telling of the story.
Beginning with Truth performed by eleven dancers to powerfully evocative music by Kamasi Washington, the choreography throughout the entire performance embraces the notion of the "movement in the music"—my conversational approach of physical response to and interaction with the dynamics and stories within jazz music, along with the social, political and cultural layers therein.
One of These Mornings, a duet danced to an arrangement of George Gershwin's Summertime, celebrates Black love—romantic, communal, family, self—to declare its existence and counteract the myths that attempt to tell us otherwise. Peace Transcends, a collaboration with poet Peter J. Harris, answers the question, "Whose child am I?" The pulsating 1960 What with music by Gregory Porter challenges, "What did the '60s come to?" and "Whose side are you on?" while juxtaposing group movement reminiscent of freedom marches with individual improvised expressions of freedom. An up-tempo jazz interpretation of the spiritual Wade in the Water brings the eight-part suite to a promise-filled close, referencing the Biblical assurance that stepping into the waters that God has stirred will heal and make you whole.
Laced throughout are texts by Ntozake Shange, Louis Armstrong, Langston Hughes, Martin Luther King, Jr., Maya Angelou, Cecil Taylor, and others.
"Freedom! Jazz! Dance!" continues JazzAntiqua's exploration of four major themes that I am drawn to contemplate as a jazz choreographer: Love, The Blues, Freedom and Home. They speak to our ongoing celebration of jazz as a vital thread in the cultural fabric of African American history and heritage, and a defining element of the American experience.