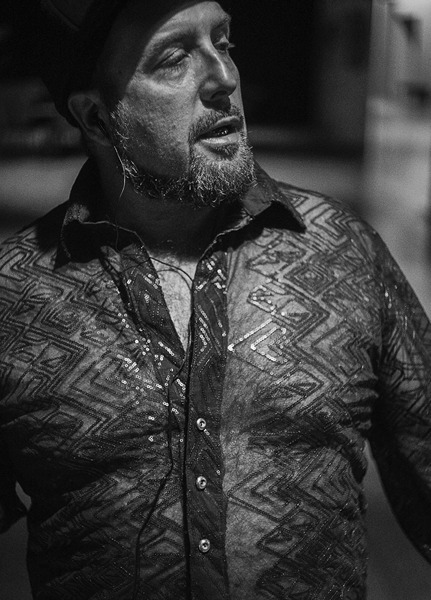 Jon Bryant Crawford
DUTY FREE RANGER: MIDNIGHT IN MEMPHIS
first performed on November 23, 2018
a street in Memphis, TN
performed once in 2018
RORY GOLDEN
New York, NY
076085931r076085931o076085931r076085931y076085931n076085931e076085931w076085931y076085931o076085931r076085931k076085931@076085931h076085931o076085931t076085931m076085931a076085931i076085931l076085931.076085931c076085931o076085931m
instagram.com/rorygolden
DUTY FREE RANGER: MIDNIGHT IN MEMPHIS
RORY GOLDEN
As a fancy purple-sequined shirt-wearing urban ranger I wandered Memphis at midnight, mumbling the lyrics to the song Midnight in Memphis as the song played over and over in my headset. I walked from Crosstown Concourse to the corner of Poplar and Claybrook. I took off my clothing and changed outfits, transforming into a street hustler waiting on a date.
Colonial history and white blindness are raw material for parody in Duty Free Ranger performative public interventions where I embody, satirize, and undo imperialism's damaging effects on a vibrational level as a dandy park ranger in clothing I design for specific actions. These works destabilize colonialism and militarism via public interventions that I dub Duty Free Ranger "fashion actions."
This particular #dutyfreeranger action served as an invisible, secret commentary on gentrification arising from Crosstown Concourse, a defunct Sears warehouse building redesigned ("reborn") into an apartment building/shopping complex/arts hub in a primarily African American and low-income neighborhood. Three blocks from this fancy, new, and expensive "high security" and "very safe" building exists a whole other world where people survive by any and all means necessary. I was involved in both worlds, participating in a "gentrification spaceship" as a three month resident artist at Crosstown Arts, and residing in a cheap rooming house down the block before and after. In "Midnight in Memphis" I exist and walk in between, separated by attire, by demeanor, and the swipe of a key card.