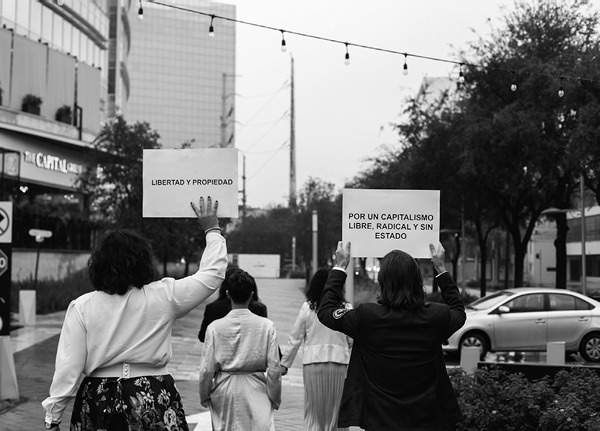 Michelle Lartigue
WALK FOR CAPITALISM
first performed on November 10, 2018
San Pedro Garza García, Monterrey, Mexico
performed once in 2018
YOLANDA BENALBA
Aura Torres, Alejandro Zertuche, Issa Téllez, José De Sancristóbal, Melissa García Aguirre
Mexico City, Mexico / Valencia, Spain
034635550y034635550o034635550l034635550a034635550n034635550d034635550a034635550b034635550e034635550n034635550a034635550l034635550b034635550a034635550@034635550g034635550m034635550a034635550i034635550l034635550.034635550c034635550o034635550m
yolandabenalba.com
WALK FOR CAPITALISM
YOLANDA BENALBA
A small group of demonstrators makes a peaceful and elegant walk worthy of the highest-born aristocrat. Dressed in suits and ties, badges, and anarcho-capitalist banners, they walk through the streets of San Pedro Garza García, the municipal district with the highest GDP in all of Latin America.
This situationist drift in favor of the capitalist system in hodgepodge with the libertarian ideology is a nod to the historic event headed by the politician and anarcho-capitalist economist Per Bylund, who organized the Walk for Capitalism in Stockholm during 2001 and 2002.
The performance "Walk for Capitalism" aims, under the format of simulation of this concrete historical event, to open an ironic space for criticism of the economic system in which we are immersed.