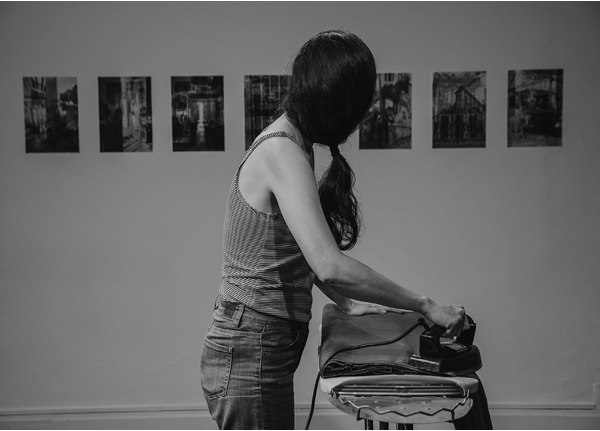 Taylla de Paula
PASSADO A LIMPO
first performed on November 8, 2018
Goethe-Institut Salvador, Salvador, Brazil
performed once in 2018
GRASIELE SOUSA AKA CABELÓDROMA
São Paulo/Cachoeira Brazil

013464722g013464722r013464722a013464722s013464722i013464722s013464722o013464722u013464722s013464722a013464722@013464722g013464722m013464722a013464722i013464722l013464722.013464722c013464722o013464722m
grasielesousa.org
PASSADO A LIMPO
GRASIELE SOUSA AKA CABELÓDROMA
This performance is an inventory about woman's work divided into two parts: first, I get the audience to talk about it, and then I do some housework. On a large piece of fabric, during three hours, I write down the name, age, abilities, profession, and paid activity of mothers, sisters, aunts, friends, grandmothers, cousins, teachers etc., who are part of the affective network of participants.
For the second part, I spent an hour ironing the fabric and, as a consequence, erasing all the diagram I had built before, because I use a pencil that disappears from the surface written, when the fabric is heated.
My intention is to temporarily maintain in time and space what I write together with the participating public. With this diagram we observe that work is not always synonymous with female emancipation, since part of it, especially the housework one, is not paid, which reinforces the idea that it is a feminine obligation.
By erasing all this information from the public, I also want to discuss the boundaries between memory and forgetfulness, and incite some discomfort with the banality of the act. It is hardly written and soon goes out. It is an attitude that most often reflects the treatment given to female participation in societies established with patriarchal values, as is the case in my country.
To iron as an artistic event is also a manifesto of housework, being public and communal responsibility.