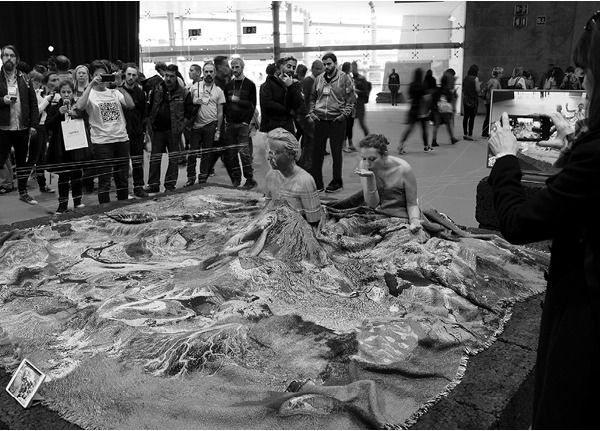 Antonio Pedro Ferreira
ILAND—GROWTH AND PROCESS
first performed on November 5, 2018
Websummit 2018, Lisbon, Portugal
performed seven times in 2018
REGINA FRANK
Germany

theheartispresent.com
ILAND—GROWTH AND PROCESS
REGINA FRANK
In this performance, I used a previously constructed relief tapestry/sculpture "iLAND: In Sickness - In Health." This features a collage of the most pressing environmental issues on one continuously updated island landscape based on data and aerial images from NASA, and numerous Governmental Environmental Agencies and NGO's.
I performed seven times for 77 min in slow motion every day at the busy WebSummit, moving so extremely slowly that a time lapse film showed me moving at normal speed and the viewers and participants of WebSummit 1000% faster. The center sculpture, produced in a sustainable non toxic process from corn oil, held a silent presence. Like a mother earth I was approaching her, leaning on her, merging with her, hiding behind her, and separating from her.
The idea for this piece came from my desire to touch the audience with this readily available environmental data and be present within its conflict. The slow motion action questions our relation to time and investigates symbolically our connection to the effect we have on the environment: only if we fast forward do we realise the consequences of our actions. If all environmental issues existed on one island we would never act as we do now. But as the problems seem to be far away in either space or time, we tend to ignore the pressing urgency of the issues.