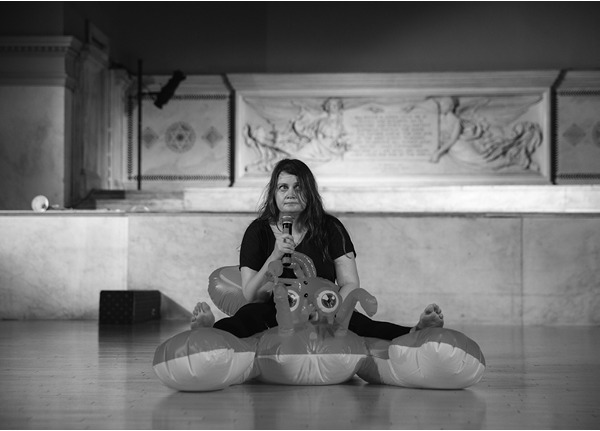 David Gonsier
DANCE FOR BROKEN IKEA LAMPS AND INFLATABLE LOBSTERS
first performed on November 5, 2018
Movement Research at Judson Church, New York, NY
performed once in 2018
ANYA LIFTIG
Westport, CT
989857676a989857676l989857676i989857676f989857676t989857676i989857676g989857676@989857676g989857676m989857676a989857676i989857676l989857676.989857676c989857676o989857676m
anyaliftig.com
DANCE FOR BROKEN IKEA LAMPS AND INFLATABLE LOBSTERS
ANYA LIFTIG
"Dance for Broken IKEA Lamps and Inflatable Lobsters" marked the first time I performed in a dance piece of my own choreography since 1996. Though I was trained in modern dance techniques as a teenager, most of my adult work has been in the fields of photography, performance for camera, and visual performance art. This work in progress incorporated some of my personal performance symbology (cheap and colorful appliances, inflatable objects, and lobsters.) Originally, this piece was a duet between me and a green tensor lamp. I worked with the lamp like it was a tempestuous lover and earnestly attempted to choreograph a pas de deux. Having been working in the field of face choreography for the past four years, I made the middle section a wonky, live face ballet without miniatures. I also worked with two small, flexible IKEA lamps mounted on my hands to evoke the spirit of crustacean and insect antenna. At the conclusion of these two sections (both presented on the iconic Judson stage/altar) the audience was led to believe that the piece had finished.
While the audience was confused as to whether the piece was concluded or not, I quickly ran up the stairs to the balcony of the space. I had pre-set a larger than life size pool float in the shape of a lobster. (Unseen by the audience was a shadow performance of me trying to blow up the thing up in time for curtain.) I hurled the float over the balcony and it landed in the middle of the performance space. Everyone applauded. I waited a few beats and then sent another smaller, but also formidable inflatable lobster, over the edge—a little cousin of the bigger pool float. I returned to the stage and began to recite an improvised monologue about why I am afraid to look at myself in mirrors, all the while cradling the smaller inflatable lobster. This was the first time I have spoken in a performance piece of my own creation.
When I was finished talking, I stood up and dragged both lobsters off stage.