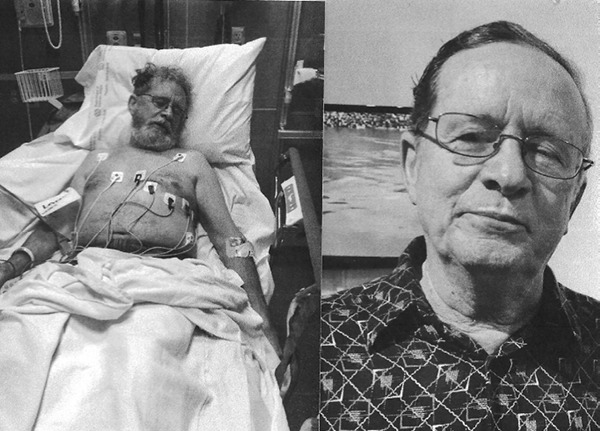 Margarita Baumann
DISSOCIATIVE IDENTITY PERFORMING FOR THE DEAD
first performed on November 3, 2018
Elizabeth Foundation for the Arts Project Space, New York, NY
performed once in 2018
BILLY X CURMANO
Margarita Baumann, Dr. David Christenson, John Pendergast, William
Winona, MN
972943945b972943945i972943945l972943945l972943945y972943945x972943945.972943945n972943945e972943945t972943945@972943945g972943945m972943945a972943945i972943945l972943945.972943945c972943945o972943945m
billyx.net
DISSOCIATIVE IDENTITY PERFORMING FOR THE DEAD
BILLY X CURMANO
The space was set for mourners and celebrants. A black burial banner with the death head logo from my 1983 three-day live burial was draped over long tables along with other objects from the project. Linda Mary Montano opened the evening with her usual style and grace, but then the night morphed from documentation of my live burial to a brass funeral urn, an "eternal friendship" ribbon and memorial cards inscribed:
"I'm sorry . . .
I could not be with you . . .
for this event" . . .
Dr. David Christenson spoke about my life and performance; a few others made mention, but the singular widow Baumann was left speechless and later confessed she was too overcome with emotion to speak. John Pendergast wore his father's vintage tuxedo and set a somber tone on violin.
In a dissociative identity moment, my long-time eccentric arch-nemesis, William, appeared—shaved clean with processed hair. He spoke disparagingly of me and attempted to take credit for my work. According to William, they were always his ideas. The accusations continued. "Billy was a hack," he asserted, "and stole everything from me including his signature River Rap." John, always willing to play, joined William as he interpreted the River Rap with mbira accompaniment . . . just like I used to do. The Dead Suite compilation video closed us out repeating the mantra "I'm sorry . . . I could not be with you . . . for this event . . ."
Life and art collide. My objects for the exhibition were from one era—my live art from another. Resurrecting ancient analog files from a life-altering rite of passage, prodding death for a second look, travel and performance prep got me. Chest to side—to back—and back—pains led to an emergency room. I was whisked into the hospital, hooked up to machines, X-rayed, poked, jabbed and what-not-have-you for a close to, well almost, near death experience. Art and everyday life came boldly—excuse the redundancy—to life—as I explored death, once more forevermore.