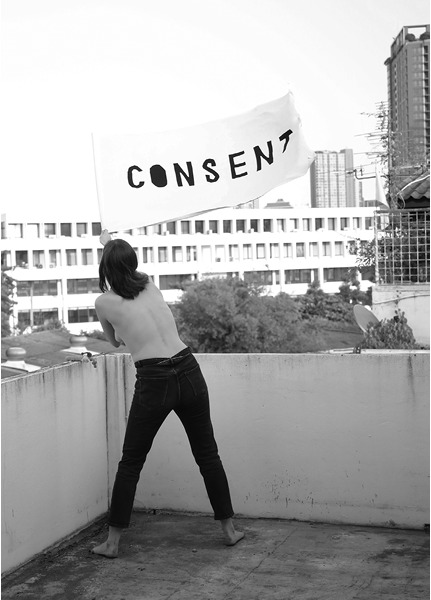 Net Swandee
CONSENT
first performed on February 11, 2018
the rooftop of Rebel Art Space, Bangkok, Thailand
performed once in 2018
LEANN HERLIHY
Dublin, Ireland / Warsaw, Poland
963919906l963919906e963919906a963919906n963919906n963919906h963919906e963919906r963919906l963919906i963919906h963919906y963919906@963919906g963919906m963919906a963919906i963919906l963919906.963919906c963919906o963919906m
leannherlihy.com
CONSENT
LEANN HERLIHY
Transgenerational trauma builds on the theory that what human beings cannot contain of their experience falls out of social discourse, and very often on to the next generation as an affective sensitivity or a chaotic urgency. The next generation must grapple with this trauma, find ways of representing it, and spare transmitting this experience of hell back onto the messenger.
Psychic legacies are often passed on through unconscious cues or affective messages that flow between child and parent. Discovering trans-generational transmission means coming to know and tell a larger narrative, one from the preceding generation. It requires close listening to the stories of parents and grandparents, with special attention to the social and historical milieu in which they lived—especially its military, economic and political turmoil. The child speaks what their parent could not. The child recognizes how their own experience has been authored, how they have been authorized, if unconsciously, to carry their parents' injury into the future. In rising above the remnants of one's ancestors' trauma, one helps to heal future generations.
In recent years, untold stories of abuse have surfaced throughout Ireland. Some of which are directly handed down to us from parents, grandparents, uncles, and aunts. Then, there are the wider collective of statements which have been publicly released, such as the Ryan Report published in 2009, which investigated child abuse in Irish institutions for children (the majority of the allegations investigated related to "Reformatory and Industrial Schools" operated by the Catholic Church); in 2017, In Her Shoes . . . became a powerful new platform for women brutally impacted by the 8th amendment in Ireland; in 2018, the horrific court case commonly known as the Belfast Rape Trial took place, where a young woman saw her four assailants (Irish and Ulster Rugby players) acquitted from all charges of rape. This resulted in a domino effect across the Irish island, as victims of rape began to share their stories, as the rest of Ireland marched throughout the streets in solidarity with them.