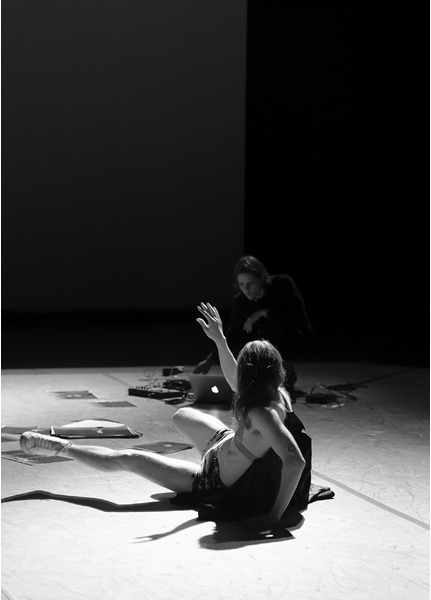 Yubo Dong
RECOMPOSITION (SCORE 3)
first performed on November 1, 2018
Experimental Media Performance Lab, Claire Trevor School of the Arts, UC Irvine, Irvine, CA
performed once in 2018
MICHAEL THURIN
Matthew Hadick, Morgan Embry, Anna Ialeggio
Los Angeles, CA
959598829m959598829i959598829c959598829h959598829a959598829e959598829l959598829.959598829t959598829h959598829u959598829r959598829i959598829n959598829@959598829g959598829m959598829a959598829i959598829l959598829.959598829c959598829o959598829m
michaelthurin.com
RECOMPOSITION (SCORE 3)
MICHAEL THURIN
Part of an ongoing, iterative project deploying image-making and live performance, "Recomposition (Score 3)" speculates upon the ways in which photography and dance function as interrelated technologies in the construction of bodies and the relationships between bodies.
A floor upon which photographic images of an androgynous body are made and remade, creating a visual score to be performed.
Ambient sound that is found, mediated, and played back, touching and being touched. Now, a house beat, a rupture.
The performance is sustained by a series of recognitions and readings, misrecognitions and misreadings. Eyes looking, locking across the stage and into the audience reminds us that we are here, together, but differently. Acknowledging the shared spaces between two central figures—a dancer and a musician—and between these figures and their surrounding viewers, we work.
Round movements and irregular gestures, generated from the recomposed photographs, repeated, against the angular and rational logic of the site.
Light shifts from cool to warm, overhead to side, gradually transforming the room from one type to another, a theater to a dancehall.
A coat, now an appendage. Do they have four arms?
Asserting their presence yet refusing conventional legibility to the audience-cum-witnesses, this dancing body begins to move and exist on its own terms. Through this process they propose ambiguity, fluidity, and unknowability as generative sources of a renewed political and aesthetic imagination and radical practices of being.
A series of mistimed cues open up a single choreographed moment into a queered non-linear timespace upon and through which we are all held, suspended in simultaneous processes of becoming and unbecoming.