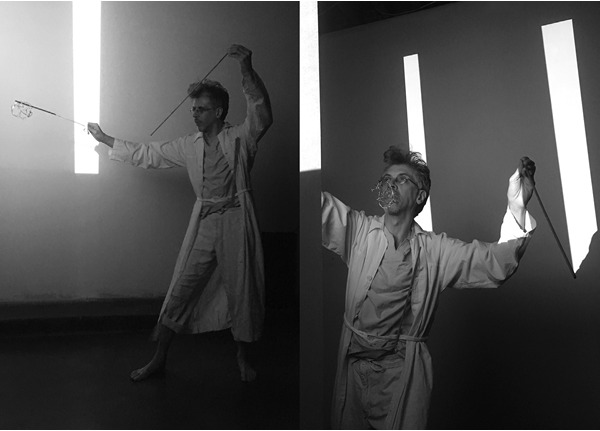 Jeffrey Pethybridge
RESURRECTION
first performed on October 27, 2018
Counterpath Gallery, Denver, CO
performed once in 2018
EDWIN TORRES
Julie Carr, Phuong T. Vuong
New York, NY
941510324e941510324d941510324w941510324i941510324n941510324@941510324b941510324r941510324a941510324i941510324n941510324l941510324i941510324n941510324g941510324o941510324.941510324c941510324o941510324m
reallifeaninstallation.com/installations
RESURRECTION
EDWIN TORRES
"Resurrection" is an ekphrasis performance using translation as a narrative. From text to audio to graphic to video to web project to performance, each iteration expands upon the original text; Julie Carr's, "Installation #38," from her book Real Life: An Installation. The actions, costume, and minimalist visual environment of the final live performance are derived from a distillation of interpretive moments, born of each translation. Allowing the audience entry points to embody their own invented elegies.
In reading the text, I anticipated that experiential translations would hold great possibilities for world-making. I heard breath, filament, and feedback creating immersive pools of static against each other. Once the proper emotional and atmospheric connection was achieved in sound, the graphic interpretation started, counter to the audio's claustrophic density, with a minimalist sterility. Evoking razor-thin wires as floating bodies, the graphic piece explored negative/positive relationships. A proposed gallery exhibition now became a web project entitled, "Reallifeaninstallation" designed by Julie Carr and Phuong T. Vuong. On the website, thirty-six hypothetical installations have been actualized in digital space. The graphic piece was now re-worked as a video translation [Installation #38, on the website], which was then re-translated into this performance.
Being intimate with every facet of a journey reveals unexpected surfaces. While living with the video, the tenuous balance of positive and negative shapes represented a limit to press against. I felt the performance space itself needed to be the page, and I was to act as controller of the edges, the razor lines, moving hypnotically in space—a complexity of relatedness and search as an offering to the audience, entitled: "Resurrection"—the empty space is entered, a narrow paper hangs at center, ceiling to floor, a porous barrier between stage and audience, the video projection is the only light, falling past the edges onto the back wall. The imagery of thin lines evolves against a bright scream of spillover light in the room while hearing an ungendered voice, a winch, and a ceaseless drone. In rectangular overlays of light and shadow, the character performs a butoh-like ceremony using thin rods to carry/penetrate a precious metal orb, appearing in front of the paper monolith, slicing through it with the rods, insect-like. The character takes the orb from its mouth, a speech barrier, hangs it from the half-torn paper, its shadow now projected, in worship, as video and room fade to black.