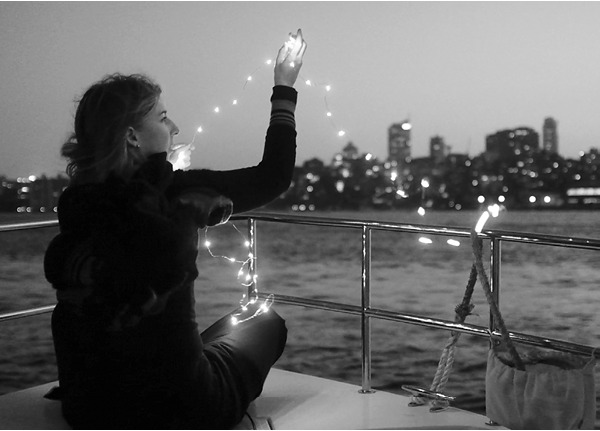 Mark Nangle
I WILL NOT DROWN YOU IN THE POEM OF THE SEA
first performed on October 25, 2018
around and across Sydney Harbour, Sydney, Australia
performed once in 2018
ANNA NANGLE
Mark Nangle
Sydney, Australia
868314010a868314010n868314010n868314010a868314010.868314010n868314010a868314010n868314010g868314010l868314010e868314010@868314010h868314010o868314010t868314010m868314010a868314010i868314010l868314010.868314010c868314010o868314010m
I WILL NOT DROWN YOU IN THE POEM OF THE SEA
ANNA NANGLE
It is a sunset on Sydney Harbour after a prolonged period of rain; for the first time in days the whole surface of the sea is alight with the fire of the sunset. A small female rückenfigur on the prow of a boat raises up a string of lights and looks out across the purple and gold water, and sings softly to the disappearing city on the other side.
And there's nothing else could set fire to this town.
For "I Will Not Drown You in The Poem Of The Sea," I took 21 participants from UNSW Art & Design Campus by bus, foot, and water taxi on a guided performative journey across Sydney and the harbor. I created this work in an attempt to "listen" to a place in a new way, creating a kind of mythopoeia that led the participants to consider the hidden spiritual dimensions of the site.
As a native born, non-indigenous Australian I have a unique perspective on the relatively recent rupture that was the colonial invasion and occupation of a native people's sovereign land. Through an introspection of my lifelong experience of alienation from the land and its stories, this work contributed to the difficult but necessary work of healing not only my own but the collective memory that is the trauma of colonisation.
The guided journey was accompanied by music, poetry, literature excerpts, readings and storytelling, played through my phone plugged into a small, hand held amp and spoken through a microphone. The texts, music and choreographed actions were selected, written and composed to encourage participants to connect and engage spiritually with the site and each other.
The work was inspired by Robert Smithson's Monuments of Passaic (1967) where he returned to his home city in New Jersey and "cinema-ized" it on an Instamatic camera. He described the experience as being like "wandering in a moving picture that I couldn't quite picture." It was this analogue moving image experience of place that I created for the participants.