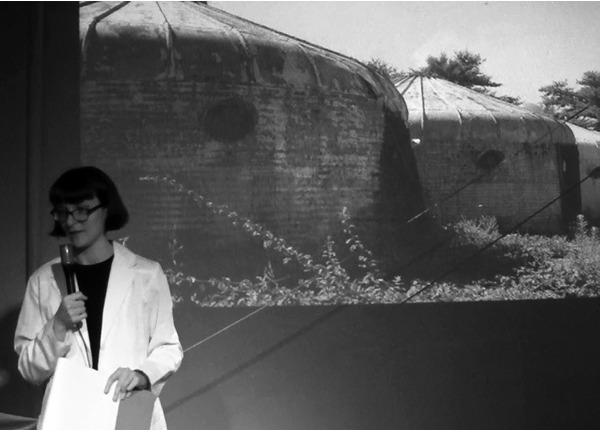 Amelia Marzec
THE LABORATORY FOR WHAT'S POSSIBLE
first performed on October 20, 2018
Panoply Performance Laboratory, Brooklyn, NY
performed once in 2018
AMELIA MARZEC
Brooklyn, NY

ameliamarzec.com
THE LABORATORY FOR WHAT'S POSSIBLE
AMELIA MARZEC
Billionaires are colonizing Mars, while scientists improving life on Earth face budget cuts. Ambitious projects are shelved in favor of almighty quarterly earnings. Attention spans fit in the space of animated gifs as we return to a pictorial language. We have enjoyed more connectedness than ever before, but have paid the price in privacy and autonomy.
"The Laboratory For What's Possible" is a project that tells the story of a fictional telecommunications research center. It is built from salvage and operates in any way possible, in an attempt to reclaim and connect layers of history in an unstable future. It imagines a new structure for a laboratory in an extreme political/environmental climate with a lack of access to materials and funding, created from our excess ("laboratory equipment" made from cast-off items, etc). The project incorporates performance, social practice, and prototyping to tell its story. It asks what is necessary to communicate, to innovate, and to stay connected, and if it is possible to create an organization not based on power and fear.
This was the initial performance for the project, which happened in three acts.
The first act was at the beach, and a video of ocean waves was shown. I stood facing the video and spoke, wondering what the ruins sliding into the sea were from, while remembering a couple of familial incidents.
The second act was a virtual tour of ruins of the telecommunications industry. The audience was invited to participate by reciting the latitude and longitude of several locations (written on index cards). Their voices became a choir of numbers. Images of these locations were projected on the wall, using custom software. The software listened to the volume of the choir's voices, and the louder they were, the brighter the images appeared; when they became quiet, the image went dark. I spoke over the choir to tell them what each of the images of ruins represented historically. The final image was the Presidential Alert, at which point the audience was directed to stop speaking.
In the third act, the projection showed the inside of a bunker full of graffiti, and the sound of windchimes played. I invited an audience member to join me in a tent (made of men's shirts and pants) that was hung at the side of the room, and Daniella LaGaccia volunteered. We discussed family, communication, and the media.