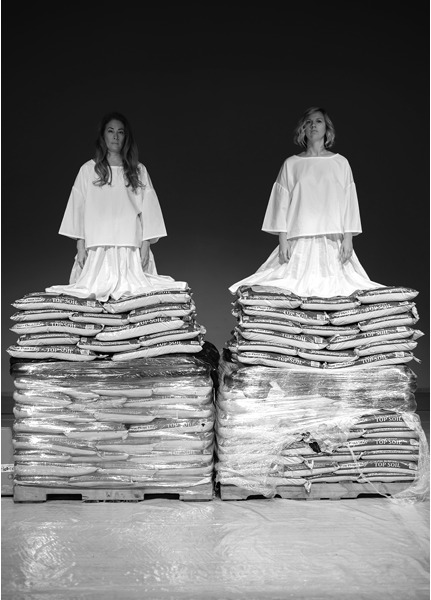 Brittany Brooke Crow
SOIL
first performed on October 19, 2018
Waterloo Center for the Arts, Waterloo, IA
performed once in 2018
HEIDI WIREN BARTLETT / JENNIFER MASADA
Pittsburgh, PA / Iowa City, IA

heidiwiren.com
SOIL
HEIDI WIREN BARTLETT / JENNIFER MASADA
"SOIL" is a durational ritual we perform as an invitation to experience women's toil with rant and resistance. More than 800 pounds of soil are dumped on a wood floor and spread into a square. The seven-hour process bears witness to a meditation on labor and deep time, observing what it means to be a daughter, a mother, a woman. At the top of each hour, we stop our work, pause together, and repeat seven gestures. Amid sounds of mechanical, industrial, and natural forces, we work as women, raising our voices in offering. Facing oppression, our bodies act with power and vulnerability. With subversive intention, we reflect, insist, and transmute.
S O I L
O I L
I L
L
(life in revolution)
The light body
yet to emerge.
Tease it out,
ply it with discarded casing,
weaving.
Dirtied but also saved.
Dirtied but silenced.
Dirtied but hidden.
Dirtied but immobilized.
Dirtied but panicked.
Dirtied but determined
Dirtied but empowered.
Dirtied but transformed.