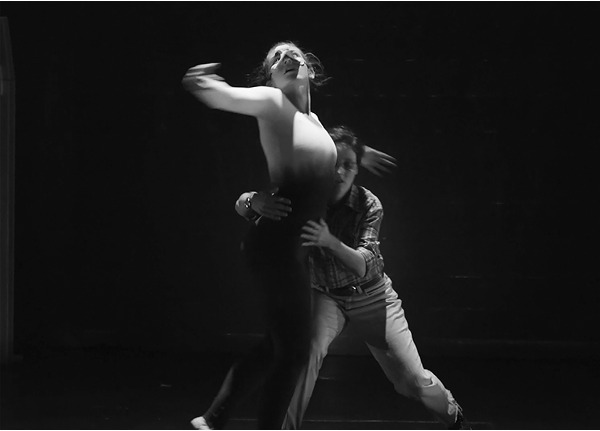 Yubo Dong
CRANE & MAN
first performed on October 16, 2018
Experimental Media & Performance Lab, Irvine, CA
performed three times in 2018
ANNA IALEGGIO / ROBYN O'DELL
Michael Thurin, Morgan Embry
Los Angeles, CA

aialeggio.net
CRANE & MAN
ANNA IALEGGIO / ROBYN O'DELL
"Crane & Man" explores the potentiality of empathetic connection and Otherness through a tragi-fantastical narrative of scientist-to-bird bonding; it is a devised ensemble collaboration using dance, clown, installation, and audio/video field recordings.
This project is based on the life of a rare fertile female Whooping Crane in captivity in the late 1970s. At the time, there were fewer than 35 known Whooping Cranes in the wild, and a small number of scientists were working desperately to establish a captive breeding flock. Originally raised and cared for by humans, Tex, the crane protagonist, enters into a long-term animal-to-human-bound kinship with middle-aged George Archibald—an ornithologist who is committed to preserving her unique genetic line. His bond with the crane involves a laborious practice of learning to dance with and for her over the course of three years. Eventually, through the deepening of their bond and a process of in-situ crane artificial insemination, her progeny—the crane chick—is born. Only a month later, Tex is devoured by raccoons while her human-caregiver is away: George has flown to Los Angeles, attempting to spread awareness of the Whooping Crane's precarity (and his work to alleviate it) as a guest on The Tonight Show.
In the wild, cranes pair-bond through affective movements to establish a shared dance vocabulary. George, the scientist, is embodied by Ialeggio and O'dell enacts Tex, the crane. Both utilize their respective repertories in clowning/sculpture and dance/theater in order to produce a theater vivarium: an on-stage enclosure adapted to preserve the two "organisms" under semi-(un)natural conditions for observation and voyeuristic study while at the same time enacting a dance performance for a contemporary audience. The audience is privy to how we may imagine both ourselves-as-these-entities, as well as "man and bird," highlighting our "real" identities as they engage with/as the cross-communicating and bonded characters.
Captivated by the true story, and deeply invested in social histories of biological endangerment and conservation, we focus our project on the emotional and physical lengths offered by a human who dedicates themselves to critically imperiled species. Any single strand of this story leads to complex meditations on hope, transference, connection, queerness, reproductive and genetic ethics, tragedy, loss, and wonder. We inhabit such considerations as collaborators and queer interlocutors to move within this story of entangled agencies and futurity.