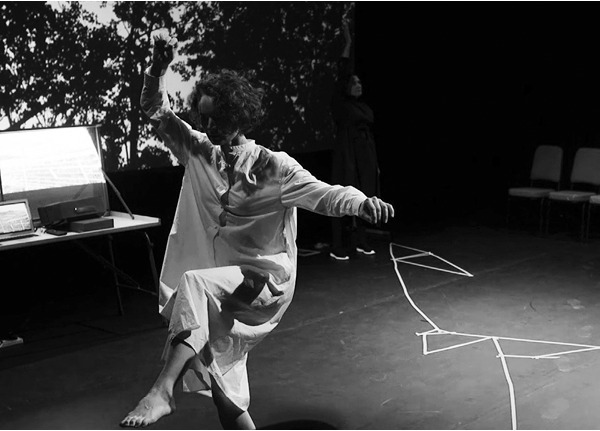 Joshua Tomalin
MAKING S P A C E S A POETIC RESPONSE
first performed on September 29, 2018
New Adelphi Theatre, Salford University, Manchester, UK
performed once in 2018
POETIC MATTER
Allison Gibb, Elaine Thomas
London, UK

alisongibb.com
MAKING S P A C E S A POETIC RESPONSE
POETIC MATTER
In this work, performance was the site of investigation. The performance used dance, video projection, poetry, and sound as elements to make a space for performance. Our aim was to explore these elements within the operation of performance as an ever-evolving site of production, experience, and transformation. We developed conceptual frameworks and devised performed elements from books on forestry practice.
On a large projection screen, a video of treetops in a forest plays with the ambient sound of this forest. Two performers sit on chairs to the side watching. Beside them is a map table with a video projector on it. The first performer crosses the space and begins a series of movement derived from forestry drawings of skylines and tree felling methods. Watching her move, the second performer begins to draw the space by placing marks of tape that corresponded to the points of contact with the ground. Once the movement ends she tapes the marks together to create a diagram of the shared spatial investigation.
In the next phase of movement, another projection of still images of forest management appears on the open top of the map table. The two performers complete a series of gestures that emphasize the physical and imagined lines of tension and connection in the space. They read together a text, "Establishment & Maintenance for Plantations," made from directions for forestry practice. The reading of the text overlaps and repeats.
The first performer begins to run in circles while the second reads the original poetic text "Harvest." This poem is written from forestry texts and follows the template form of Kerouac's Sea.
The runner falls to the floor and the space becomes darker. Only her figure on the floor is lit. A sound piece begins of layered recordings from a sawmill and tree felling which are stretched and distorted. The volume is loud and the movements on the floor frenetic. The second performer circles projecting forestry diagrams onto the white clothing of the performer on the floor with a handheld projector. This ends abruptly.
In the final phase the second performer reads poetic lecture text "Soil Horizons." "F I E L D can of course be a RAMBLING approach in the process." The first performer slowly rolls across the space reaching the far corner as the reading and the forest projections end.