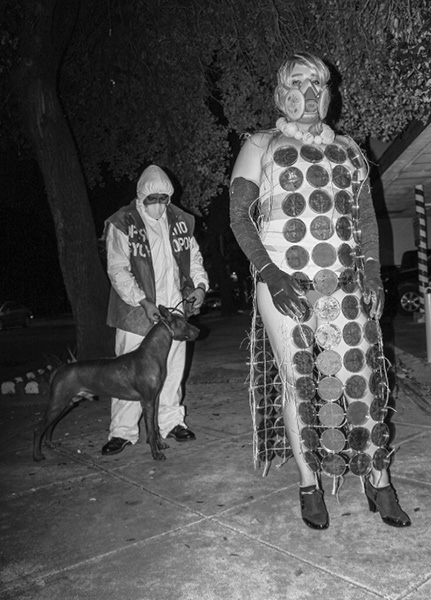 Angel Lartigue
OPERATION PSYCHOPOMP (CORPSE MAGGOTS ON THE DANCE FLOOR)
first performed on September 28, 2018
The Dive, part of EXHIBITION VII, Houston, TX
performed once in 2018
ANGEL LARTIGUE
Farrah Fang, David Gonzalez & "Matador" Xoloitzcuintle, Faith Pruneda, Teresa Martinez, Alexandra Lartigue
Houston, TX
639296824a639296824n639296824g639296824e639296824l639296824.639296824l639296824a639296824r639296824t639296824i639296824g639296824u639296824e639296824@639296824g639296824m639296824a639296824i639296824l639296824.639296824c639296824o639296824m
angel-lartigue.com
OPERATION PSYCHOPOMP (CORPSE MAGGOTS ON THE DANCE FLOOR)
ANGEL LARTIGUE
A Mexican hairless dog (Xoloitzcuintle), guides a trans forensic team into a Houston queer nightclub party. They transport burial site materials in plastic buckets into the venue, and toss corpse maggots (Sarcophaga Bullata) onto the dance floor. The team recreates a forensic scene, recovering the discarded burial material from the dance floor. Once this is complete, they leave the club instantly, leaving burial odor and remnants within the space.
Psychopomp refers to a non-human species that guides spirits into the other world. This performance features many animal parts, including burial dust and vulture feathers. I wear a necro-garment constructed of 104 petri dishes, each containing sheep blood agar, cultivated fungi, and degraded maggots, pupae, and blowfly exoskeletons from fieldwork studies in human remains recovery in Texas.
These days, anything can happen at a club. Someone could come in and kill you—the levels of uncertainty for QTPOC are pretty extreme. The club atmosphere creates a ritual of survival from death and danger. The necro-garment is composed of death and worn against a living person, reclaiming life itself. A lot of trans and queer navigation in the world is about the body—I will wear death before I get killed.