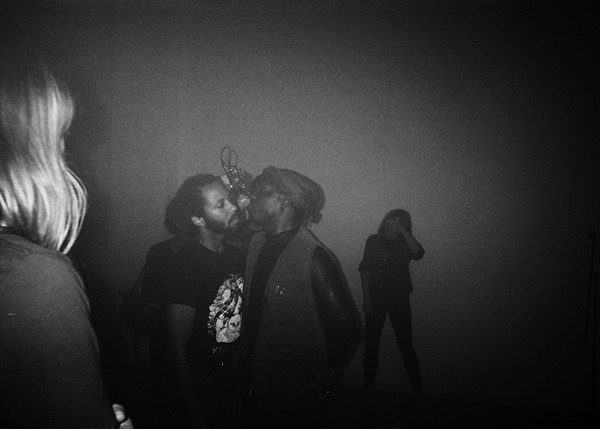 Aaron Rhodan
REVENGE BODY POLITICS
first performed on September 21, 2018
Goethe Institut Library Space, New York, NY
performed once in 2018
DEVIN KENNY
Sosa Sosa, False Witness, Vyle, Dreamcrusher
Berlin, Germany / Los Angeles, CA / New York, NY
193310102d193310102e193310102v193310102i193310102n193310102.193310102k193310102e193310102n193310102n193310102y193310102@193310102g193310102m193310102a193310102i193310102l193310102.193310102c193310102o193310102m
devinkenny.info
REVENGE BODY POLITICS
DEVIN KENNY
On the night before the opening of the exhibition "Revenge Body Politics," I organized and performed at an event. That night, visitors saw a new video commissioned by Sosa Sosa (formerly Fannie Sosa) related to the antiblack violence Sosa and their collaborator Niv Acosta faced in Europe, and the "right to retreat" laws which make it difficult to defend yourself. This greatly contrasts with "stand your ground" laws in some US states, though there are often similar "retreat" policies on too. Marco Gomez AKA False Witness created a set with CDJs. The soundscape flowed from electronic dance music of their own production to found sound recordings, and the set dived into a variety of affective spaces, largely police violence in the US. Vyle's performance included his own production and rapping, along with VR environments and modified video material he used as background, while rapping acapella (because of technical difficulties, which had me and the sound technician running around, switching out mics and cables on the fly) or over his instrumentals. Then I was up. My performance essay was of the same name of the evening and the exhibition the following day: Revenge Body Politics. It included original music of mine—"TMTI" and "If I don't laugh I'll cry"—and writing.
I used my laptop or my vocal sample and a digital delay pedal connected to the microphone. The text drew a path connecting reparations struggles in the U.S. to restitution and land redistribution struggles of the descendants of the Herero and Nama people in Namibia. The essay also thinks through social death (Orlando Patterson), and Frank Wilderson, in light of the extrajudicial killings of Black people without regard to age, or gender, neurotypicality, etc.
Other components of the performance: Dilated Peoples, George Forbes, Kanye ("Good Life"), Schoolhouse Rock, "Metrocard Song," Eboni K. Williams, Antipop Consortium, Amy Goodman, The Weather, Wooh Da Kid, "Judge uses duct tape to silence defendant," "Brandon Turner Fresh Out," Jonathan Lee Riches, Why these Wedding Dresses Matter. At the end of the performance, Dreamcrusher lit palo santo in a room lit by a single strobe, climbed on bookshelves, screamed, thrashed, and communed us into a new state.