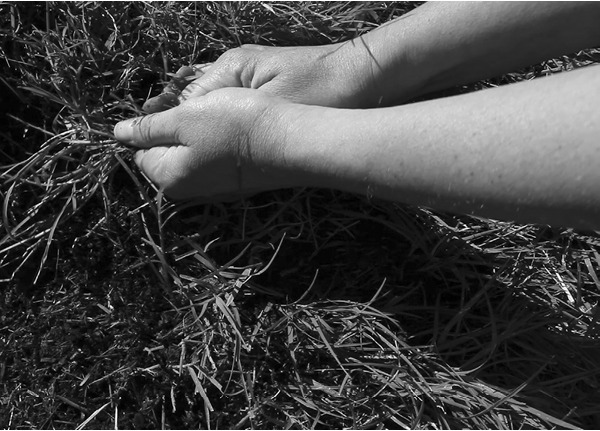 Jill R Baker
I PULLED THE GRASS BY HAND
first performed on September 18, 2018
outside the artist's studio, Corvallis, OR
performed once in 2018
JILL R. BAKER
Corvallis, OR
596181425j596181425i596181425l596181425l596181425r596181425b596181425a596181425k596181425e596181425r596181425@596181425g596181425m596181425a596181425i596181425l596181425.596181425c596181425o596181425m
impossiblehistories.com
I PULLED THE GRASS BY HAND
JILL R. BAKER
Sometimes we feel powerless and do not know what to do. If there is something here, I will find it and will attend to it. I pulled the grass by hand: I cleared the ground where grass grew to make a blanket to cover my body as I lay on the ground where I pulled the grass by hand. The act of pulling grass by hand contemplates purpose and futility, endurance and persistence, while enacting metaphors of penance/atonement, resistance, and personal struggle.
"I Pulled the Grass by Hand" is a performance that seeks to endure a futile and impossible task, one that subverts conventional methods with a gendered hand, and acknowledges labor, the body, and time. The first performance took place in my backyard, an extension of my studio, a tether to a personal struggle, reflection, and clearing. Once a clearing had been made, I took the pulled grass and made a blanket that would cover my body on that site of clearing.
Additional performances of "Pulling Grass by Hand" should occur in sites imbued with political, social, and ecological meanings, for one performer or many.