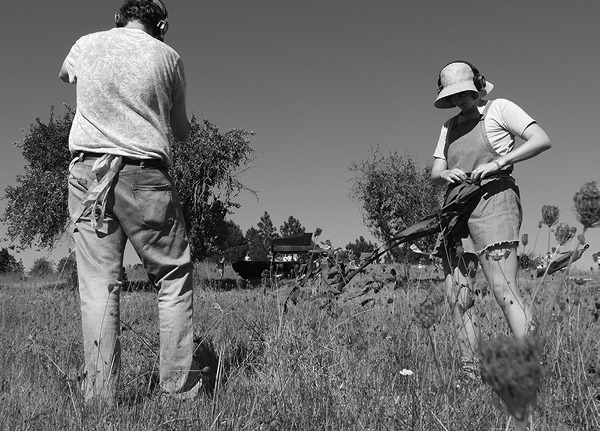 JJ Gregg
VARIATION FOR FIELD AND PIANO
first performed on September 9, 2018
Zena Farm, Zena, OR
performed twice in 2018
CHLOE A. LAWTON / CAYLA SKILLIN-BRAUCHLE
Hunter Noack, Emma Burgess, Sinead Cahill, Rachel Carstensen, Maddie Cleaver, Evan Dilley, Matthew Jensen, Genevieve Lawrence, Greth Lyon
Salem, OR
566082522c566082522l566082522a566082522w566082522t566082522o566082522n566082522156608252295660825226566082522@566082522g566082522m566082522a566082522i566082522l566082522.566082522c566082522o566082522m
chloelawton.com
caylaskillin-brauchle.com
VARIATION FOR FIELD AND PIANO
CHLOE A. LAWTON / CAYLA SKILLIN-BRAUCHLE
"Variation for Field and Piano" was a collaboration between Chloe A. Lawton and Cayla Skillin-Brauchle in response to Hunter Noack's performance of "In a Landscape" at Willamette University's Zena Property in Zena, Oregon, USA. "Variation for Field and Piano" asks the question: how do landscapes shift?
In this performance, ten performers organized in five pairs responded to Zena's landscape, particularly the invasive Queen Anne's Lace that dots the property. Using the visual language of marking tape (seen throughout Zena as a byproduct of forest restoration work), performers tagged the Queen Anne's Lace with colorful strips of fabric while Noack performed. Performers were guided by this Fluxus score:
VARIATION FOR FIELD AND PIANO
Connect yourself to your dance partner. Walk away from each other as far as your fabric will allow. Make eye contact.
Cut 1 foot sections of colored fabric. Tie fabric around Queen Anne's Lace so it catches the wind. Mark every plant.
Work towards each other until you meet in the middle.
Unhook, untangle, repeat.
The performers, as well as the audience, wore headphones which allowed them to hear the piano performance as they moved throughout the property.
The title "In a Landscape" is borrowed from the title of a John Cage composition and inspired the Fluxus dance of the performers in "Variation for Field and Piano." Randomness—where the flowers grew, the pace and mood of the music, the length of the cloth strips—guided the movement.
The orange, pink, purple, and blue cotton strips referenced the marking tape observed on the property, but also mimicked the sunset that was starting as Noack's piano performance was concluding.
The following day the tagged Queen Anne's Lace was removed, mimicking a controlled burn.