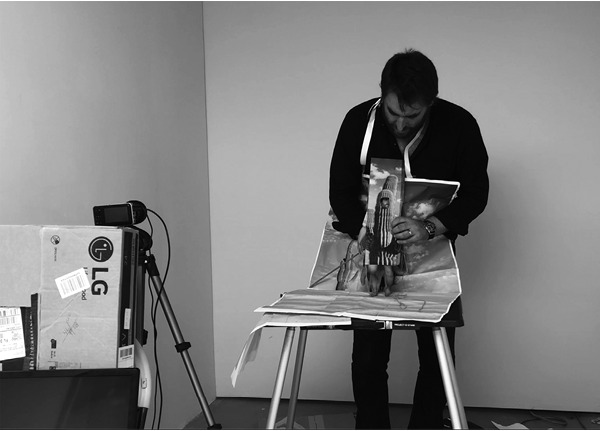 Elizabeth Withstandley
ATTEMPT TO DRAIN ALL THE HEAT FROM MY BODY UNTIL IT IS COLD TO THE TOUCH/ATTEMPT TO TRANSFER ALL MY HEAT TO A ROCK
first performed on September 8, 2018
Locust Projects, Miami, FL
performed once in 2018
RICHARD HALEY
Detroit, MI

ATTEMPT TO DRAIN ALL THE HEAT FROM MY BODY UNTIL IT IS COLD TO THE TOUCH/ATTEMPT TO TRANSFER ALL MY HEAT TO A ROCK
RICHARD HALEY
This work took the form of a tabletop lecture using cut paper dolls of myself in various sizes and costumes and props created for the paper dolls.
The work was performed live while also being projected via a closed-circuit camera. The camera was focused close-up on the paper dolls so you could see the performing paper bodies without seeing the human body that places the paper bodies in motion. The viewer witnessed the objects performing on screen simultaneously with living body manipulating them on a small table.
I describe various exercises on how one could drain all the heat from one's body while I act out the situation with the surrogates of myself. For instance, in the picture opposite I am planting myself in the ground and sending all the heat from my legs into the earth, mimicking a cactus' root system. In this instance, the roots are being used to send something out rather than absorb something. A transfer system rather than an absorption system. The climactic moment comes when I realize all of the heat-draining exercises will only temporarily lead to making my body cold to the touch or result in death. The lecture then turns its attention towards acting out scenarios into which one could transfer all their heat to a rock. A rock is forever and a body is not.
Why am I using paper dolls?
The work makes direct reference to performance art working with the body made for video in the 1960s and 70s through referencing traces and ephemeral states of being. The use of paper dolls opens the work to further discussions on material presence. It asks more of how meaning is represented and transmitted than defining states of being as my predecessors did.