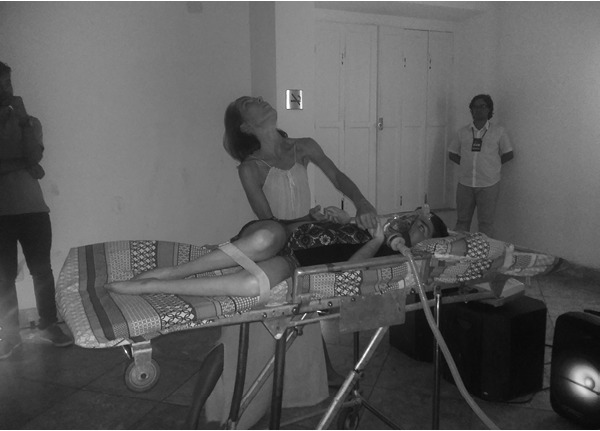 Josenete Monteiro
O PROBLEMA É PORQUE SOU LÚCIDO?!
first performed on September 5, 2018
Teatro Martim Gonçalves, Universidade Federal da Bahia, FilteBahia 2018, Salvador, Brazil
performed once in 2018
FELIPE MONTEIRO
Maceió, Brazil
538433360f538433360h538433360m538433360o538433360a538433360l538433360@538433360h538433360o538433360t538433360m538433360a538433360i538433360l538433360.538433360c538433360o538433360m
facebook.com/fhmoalbrasil
O PROBLEMA É PORQUE SOU LÚCIDO?!
FELIPE MONTEIRO
A differentiated body lies in a hospital bed placed in the center of the foyer of the theater. The door of the theater is open throughout the performance, and spectators are free to come and go at any time. The sound of the heartbeat is emitted, and a video of a nurse drawing blood from the jugular artery of the performer is displayed at the same time. The spectators slowly approach the bed and ask permission to touch and manipulate the atrophied body; some fear hurting the body and others just move their arms and legs. One spectator begins to dance and another begins to sing a traditional and sacred song from Réunion Island (France), thus creating an artistic ritual. The movements of the performer are almost imperceptible due to the progression of a degenerative disease; the body of the performer is becoming stunted and unable to move. The performer's breathing is weak and needs to be boosted by the blows of non-invasive ventilation equipment. A body that has been—and continues to be—stigmatized by health, faith, and education professionals. A differentiated body that provokes in viewers the cruelty and plague revered by Antonin Artaud. The differentiated body on the scene invites viewers not only to contemplate, but to change their lives for performance art.