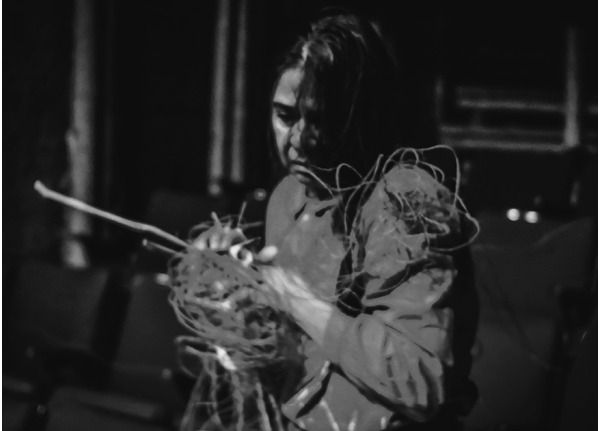 Festival Brujula al Sur
GORRION ROTO: LA COLA DEL COMETA (BROKEN SPARROW: THE COMET'S TAIL)
first performed on September 4, 2018
Teatro La Concha, Festival Brujula al Sur, Cali, Colombia
performed twice in 2018
PARPADO TEATRO
George Mario Angel Quintero, Berta Nelly Arboleda, Daniel Suarez, and Anderley Ramirez, Diana Solarte, Sebastian Lozano Rios, Geydi Cordoba, Veronica Gomez Giraldo
Medellin, Colombia
517551460p517551460a517551460r517551460p517551460a517551460d517551460o517551460t517551460e517551460a517551460t517551460r517551460o517551460@517551460g517551460m517551460a517551460i517551460l517551460.517551460c517551460o517551460m
facebook.com/ParpadoTeatro
GORRION ROTO: LA COLA DEL COMETA (BROKEN SPARROW: THE COMET'S TAIL)
PARPADO TEATRO
The purpose of this work was to delve into the complex nature of trauma and the process of surviving it in an urban context. The performance addresses the growing number of fragmented personalities walking the streets of the world's cities with no connection to their communities or tribes. This is the fourth performance in a series using the central character of Broken Sparrow. She walks the streets, trying to find some coherence regarding her separate selves, the fragments created by a past trauma.
In this case, we decided to actually physically separate the fragments into different people and have them occupy separate rooms of the old house that is Teatro La Concha in Cali. Our core team was complemented by five young actors from the Cali Theater Scene who agreed to participate and had three days to prepare. Original music was created to be played throughout the house as a unifying factor.
The different spaces were:
First: the daughter, "I am the daughter of the burn/ I am ground cane/ I lie down in a night/ that seeds me./ There is no tranquil house."
Second: the mother, "What is seen is a veil that before was behind and now is in front. The past crawls into the day like a scorpion that hides between the covers."
Third: the prisoner, "The stars fall and stick in the ground. Enclosed in the canebrake, the gazes from above are at fault. Only the vertical can aspire to getting up, as it were a rash of growing arrows, a green plumage, like sweet unbreakable bars."
Fourth: lady of breeding, "Don't leave, princess./ Stay a little while and keep me company, princess./ Where do you have to go, princess?
Fifth: lost on the stairs, "It was this way. Ascending ends in descending, and descending has no remedy but to rise again. It is this way, right? Where did you get off to?"
And finally Sixth: the woman in flames, "Have you ever seen a being in flames? Their wake of fire that curves like memory, and clacks like jacks rolling out through the darkness. What whim incited such a body to consume itself?"