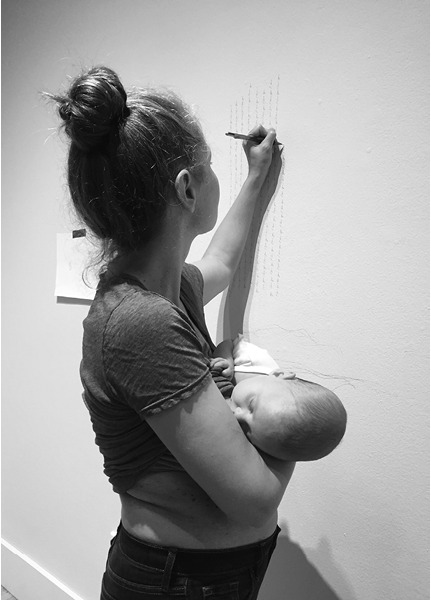 Natalie Wetzel
ALL I CAN GIVE YOU IS ALL THAT I AM
first performed on August 27, 2018
The Fed Galleries, Ferris State University, Grand Rapids, MI
performed once in 2018
DANIELLE C. WYCKOFF
Josephine L. Wyckoff-Lareau
Grand Rapids, MI
495046565d495046565a495046565n495046565i495046565e495046565l495046565l495046565e495046565.495046565c495046565.495046565w495046565y495046565c495046565k495046565o495046565f495046565f495046565@495046565g495046565m495046565a495046565i495046565l495046565.495046565c495046565o495046565m
daniellewyckoff.com
ALL I CAN GIVE YOU IS ALL THAT I AM
DANIELLE C. WYCKOFF
"All I Can Give You Is All That I Am (Mother and Daughter)" was a performative drawing in which I repeatedly wrote the phrase "I love you" directly on the gallery wall in graphite while holding my infant daughter. When she was calm, I was able to write the phrase on the highest and lowest points I could reach while safely holding her. When she was in need of comfort, I embraced her and swayed, holding my pencil point to the wall so that the action of the comfort was recorded in long swooping lines.
After the performance, which took place on two separate days, the writing and lines were left as evidence of the action for the duration of the exhibition.
Performed in a gallery during open hours, this work breached many unspoken boundaries typical of fine art spaces in the United States: the bringing of a baby into the space, breastfeeding in public, tending to a baby crying loudly in an otherwise quiet room, changing diapers on the gallery benches, essentially caring for a child in a space typically reserved for other activities. By doing so, this piece questions where and when care is allowed to happen.
In addition, and perhaps more importantly, this piece responds to and reflects our limits in our loving. We are so small after all, yet when we love, we often (or idealistically) try to give the whole of ourselves. We also attempt to express this love verbally, but as much as we state a sentiment, language often has its limits, never quite getting at the immensity or nuances of what we feel or mean. As much as I write my declaration, the language is never quite enough to express the love of which I write.
Influenced by having my first child a couple months before the action, this work indicates how I am learning anew what it is to love and how I am painfully aware of limits imposed by cultural norms on caring for her, as well as my limits to give to my daughter all that she will ever need. All I can give her is all that I am—my attention, care, love. Yet what I am is limited by my humanness, my flaws, my mortality.