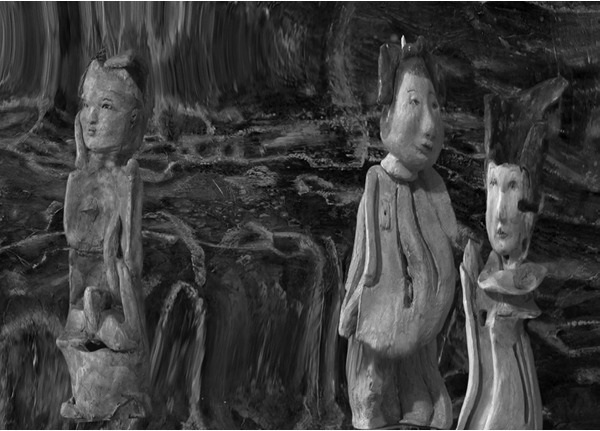 Nina Kuo
UNDERWATER CLAY LADIES, TRAIN + HAIRY HOUSE
first performed on August 19, 2018
Le Petite Versailles, Allied Productions, New York, NY
performed twice in 2018
NINA KUO / LORIN ROSER
New York, NY
467695412a467695412r467695412t467695412@467695412m467695412y467695412t467695412h467695412i467695412c467695412a467695412l467695412m467695412u467695412s467695412e467695412.467695412c467695412o467695412m
mythicalmuse.com
UNDERWATER CLAY LADIES, TRAIN + HAIRY HOUSE
NINA KUO / LORIN ROSER
Nina Kuo:
My videoscapes introduced two live performers who made short improv dances in my theatrical garden stage environment and garden wall with two video loop projections: "Underwater Clay Ladies, Train" and "Hairy House."
In "Underwater Clay Ladies, Train," my poetic video loops address perspectives of cinematic effects as clay figures swim through oceans searching for early Chinese ancestor-workers on the Transcontinental railroad. In the 1860's, this railroad bridged Eastern and Western cultures. My aim is to translate cultural distortions through visualizations of rhapsodic animated images and sound narratives. I used 3D hi-tech images and stop-motion painted works in a public urban garden under night skies.
Lorin Roser:
In "Hairy House," my soundscapes (electronic synthesized music scores) were accompanied by two live performers who improvised short dance movements in a garden/stage environment as 8' x 10' video loop projections on the garden wall lit up the entire space at dusk. Large painted-fabric banners created a fantasy outdoor stage.
The 3D animation video works I created are visualized futuristic architectural forms with grass and cyborg plants moving onto buildings. These video loops form a projected, glowing mural of a garden scene in which industrial complexes coexist with hi-tech artists and architects as solar structures aid in global warming issues.
In "Hairy House," we share a fantasy of our plant life and ecological garden with visualizations of how our homes can be woven into fluid living environments. These hi-tech images of a Hairy House challenge the audience's views of CGI videos—they are not purely for games or commercial purposes. Rather, they offer a new artistic approach to plants being built into organic housing solutions while also allowing us to explore deteriorating urban areas that can now be transformed into successful garden spaces.