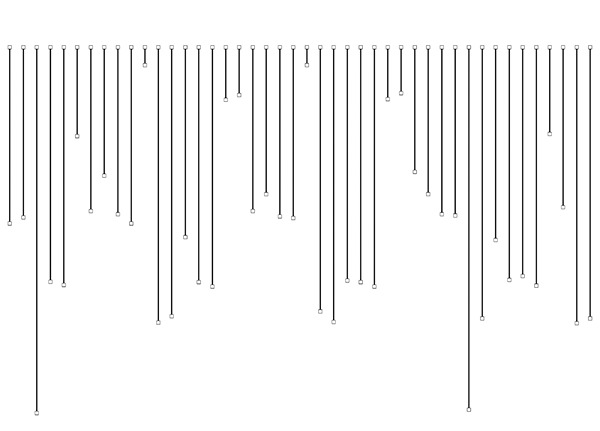 Fulla Abdul-Jabbar
WHY DID YOU CRY WHEN YOU READ THAT POEM
first performed on August 15, 2018
Eastern Bloc for the Electronic Literature Organization, Montreal, Canada
performed three times in 2018
FULLA ABDUL-JABBAR
Chicago, IL

fullaabduljabbar.com
WHY DID YOU CRY WHEN YOU READ THAT POEM
FULLA ABDUL-JABBAR
"Why did you cry when you read that poem" is a PowerPoint poem which explores the rigidity of structure and the quality of form that moves us.
This performance is one in a series of works in which I use presentation software—a medium often associated with standardization and distance—and re-present it as inherently expressive, personal, and emotive.
It begins with a row of line segments arranged on the screen. As the performance continues, I read poetry written during a mourning period which came out as a sputter, and, as I read, the lines on the screen are stretched and dragged downward through the application of a uniform gesture. Since this action is uncommon in the software, the lines begin to jump erratically. However, this movement is clearly organized and repeatable—it feels somehow almost destined—in a moment of irrational, human beauty.
The performance itself is similarly composed to mimic the space between a structure's boundary and expressive possibility. Interspersed silences allow the audience's gaze to shift fluidly between the performer, the screen, and the surroundings. Everything happening in the room in the moment of performance thus becomes the performance—everything in that room, and everything in that person watching and listening.
I am interested in the moment when you exert unfamiliar pressure on a structure, its irrationality reveals itself to us. It is the lines of structure—be it poetry, the body, the voice, or PowerPoint—that, once we move them, in return move us, sometimes to tears.