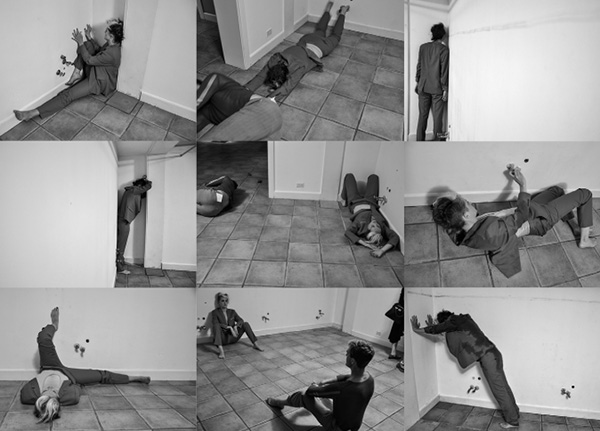 Mat Wilson
DARE TO BARE / D.I.Y.
first performed on August 11, 2018
Downtown SLO [The Network], San Luis Obispo, CA
performed twice in 2018
CYNTHIA POST HUNT
Fayetteville, AR

cynthiaposthunt.com
DARE TO BARE / D.I.Y.
CYNTHIA POST HUNT
"Dare to Bare / D.I.Y." explores presence through notions of strength, expectation, and viewability while rejecting forms of entertainment, theatricality, and generosity.
The gesture considers the physicality of a bare wall and the physicality of my body. It is a survey of impulse through movement or lack of movement.
For three hours, I demanded and claimed my own space in a vacant commercial property.
6pm: I entered the space and put on a red suit.
Examples of initial [premeditated] movements:
Examples of eventual [impulse] movements:
9pm: I took off the red suit and exited the space.