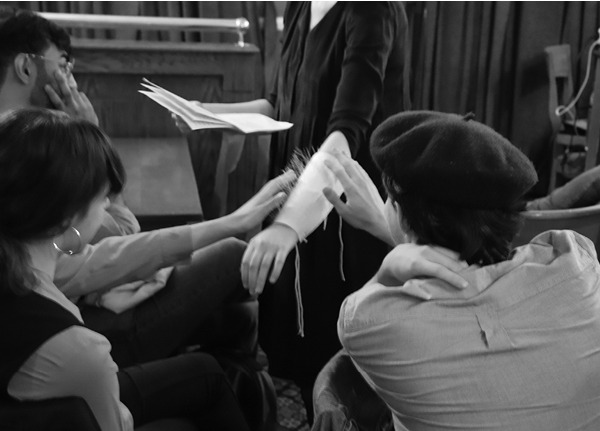 JD Howse
EVENT SCORE FOR THE POEM WITH A SCALE RATIO OF 1:1
first performed on August 9, 2018
The Nell of Old Drury, London, UK
performed once in 2018
SARAH DAWSON
London, UK
424048762s424048762a424048762r424048762a424048762h424048762@424048762s424048762a424048762r424048762a424048762h424048762-424048762d424048762a424048762w424048762s424048762o424048762n424048762.424048762c424048762o424048762.424048762u424048762k
sarah-dawson.co.uk
EVENT SCORE FOR THE POEM WITH A SCALE RATIO OF 1:1
SARAH DAWSON
My performance highlighted the physical handling of artworks by the public as a point of tension, enabling me to interrogate my own and other people's views on touch and the way touch is negotiated. Through this performance, I attempted to resolve the conflict between my commitment to generosity, and my personal discomfort with most touching.
In advance of the performance, I spent about twenty hours laboring over an elaborate cuff that covered most of my forearm. I designed an intricate pattern of needle holes and individually glued in synthetic paintbrush hairs that echoed the natural patterns of a crumbling, moss-covered brick wall at my mother's house. Because the paintbrush hairs protruded slightly through the back of the cuff, I could feel them bristle when the cuff was stroked, as though it were an extension of my own body. The labor-intensive artwork became an intermediary—a membrane/meeting point between self and others.
I also pre-recorded alternate lines of a poem, which gave the audience explicit permission to touch the artwork. Alternating between pre-recorded and live speech allowed me to convey conflicted attitudes to the interactions I was inviting.
The performance began with my mother tying the cuff onto my arm. As I read the poem, I moved slowly around the room, trying to give every member of the audience the opportunity to touch the artwork. As I do not provide any information about my performances in advance, the audience were challenged to read the situation and decide in the moment how to respond. The first audience members that I approached had no precedent to follow when deciding whether and how to touch the artwork, and the moment when the first person reached out to touch the cuff was highly charged.
The interactions that followed were careful and tentative, and showed a level of mutual respect that I had not anticipated. During the performance, I was able to observe the way that unspoken rules are established in an unfamiliar situation, and prompt moments of openness and interpersonal connection that I would otherwise struggle to achieve.