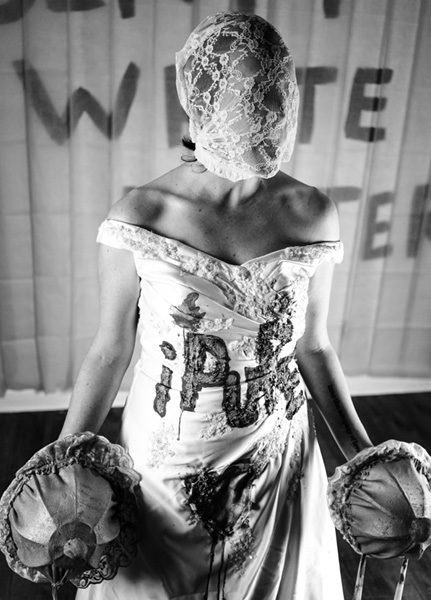 Derrick Beasley
DIRTY WHITE MATTER
first performed on August 8, 2018
Victori + Mo, Brooklyn, NY
performed five times in 2018
MEG STEIN
Jessica Harris, Sarah Konner, Susan Stainman, Jennifer Hadlock, Austin Dixon, Alyssa Noble
Durham, NC / Brooklyn, NY
412009921d412009921i412009921r412009921t412009921y412009921w412009921h412009921i412009921t412009921e412009921m412009921a412009921t412009921t412009921e412009921r412009921@412009921g412009921m412009921a412009921i412009921l412009921.412009921c412009921o412009921m
dirtywhitematter.com
DIRTY WHITE MATTER
MEG STEIN
"Dirty White Matter" explores and mutates cultural ideas of whiteness and femininity using sculpture, performance, and interactive elements. It is an exploration of white femininity, with the joint aims of de-purification and accountability. Using movement, costume, and sculptural objects, I collaborate with dancers and anti-racism facilitators to claim and mutate the visual language of their own whiteness and femaleness. This site-specific performance envisions a new future of femininity and a legacy for whiteness while reckoning with the present and past.
Beginning as a community-based art collaboration originating in Durham, NC, this performance is an excerpt from an ongoing series of projects that take the form of sculpture, group discussion, recorded interviews, dance, and guided art exercises to engage the audience in questions of whiteness and white femininity.
Through interpretive movement, I and my collaborators reflect, engage, and embody the issues at play, while also manipulating materials that are specifically fashioned from white cotton: tampons, Q-tips, face pads, etc., and are utilized intimately on primarily female bodies. These bleached materials, which merge white coloring with "cleanliness" and "purity," are thereby visually representative of the perpetuated narratives we are told about whiteness. In this performance, I foster a dialogue surrounding these everyday materials, the processes these materials undergo in order to obtain their bright white coloring, and the significance of such production. I also implore white viewers, especially, to evaluate their own whiteness and how it relates to these cotton materials and the harmful ideas we're dissecting. I ask viewers to consider what their whiteness means and the impact it has on the world.