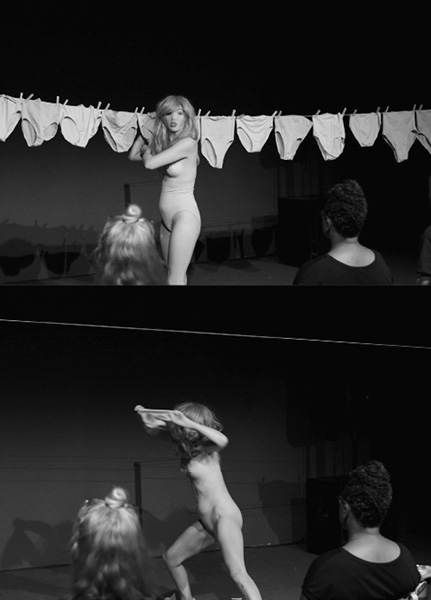 Live Art Bistro
CONTROL PANT SYMPHONY
first performed on August 1, 2018
Live Art Bistro, Leeds, UK
performed four times in 2018
NATALIE WARDLE
Manchester, UK
391320142w391320142n391320142a391320142t391320142a391320142l391320142i391320142e391320142239132014263913201422391320142@391320142a391320142o391320142l391320142.391320142c391320142o391320142m
nataliewardle.com
CONTROL PANT SYMPHONY
NATALIE WARDLE
"Control Pant Symphony" is a performance looking at how women constrict their bodies to fit in with society's ideal body types, exploring shape wear and tape that is placed over nipples both to cover and repress their form.
The piece is performed to Johann Strauss II's "The Blue Danube Waltz" and begins as I walk on to a stage filled with control pants on a washing line. Inspecting the washing line, I then go on to start "playing" the pants as well as pinging my own control pants to the tune of the song. I then rebel against the control pants catapulting them into the audience as the music gets more lively. Finally, I rebel against my own clothing; I rip off my nipple stickers which are in place to censor the nipple, then take off my own control pants and throw them at the audience.
The performance challenges society's idea of the perfect body, how we should be nipped in at the waist, and how this is controlled by clothing and beauty tricks. A profit is constantly being made from the oppression of women, manipulating women to think they need all these products to look beautiful. Really, they need positivity towards their bodies as they are, and a stop to the judgements of everyone's individual, unique, beautiful body.