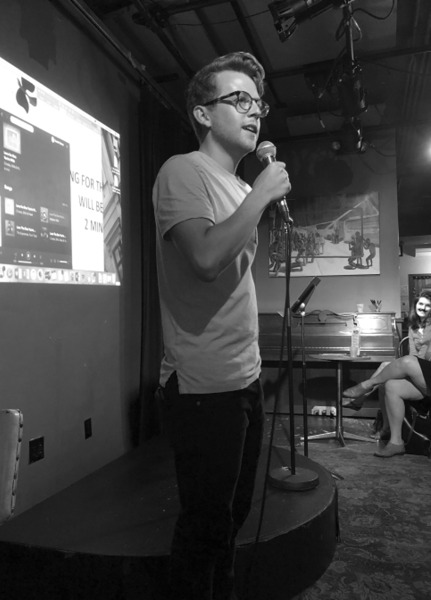 Kay Sorin
WAITING FOR THE BARBARIANS
first performed on July 28, 2018
HOT! Festival, Dixon Place, New York, NY
performed once in 2018
DANIEL IRVING RATTNER
New York, NY
387093617d387093617a387093617n387093617i387093617e387093617l387093617i387093617r387093617v387093617i387093617n387093617g387093617r387093617a387093617t387093617t387093617n387093617e387093617r387093617@387093617g387093617m387093617a387093617i387093617l387093617.387093617c387093617o387093617m
danielrattner.com
WAITING FOR THE BARBARIANS
DANIEL IRVING RATTNER
Adapted from the poem by C.P. Cavafy, "Waiting for the Barbarians" sought to provide a road map for how to live in a liminal time. In addition to using biographical details from Cavafy's life and his poems, I drew the text for this piece from interviews with gay Trump supporters that I conducted in 2017 and the story of a gay man whose teenage lover died in the Holocaust after a failed rescue attempt.
With the piece, I sought to explore how people, but especially gay men, survive during times of fascism. Moreover, using Theodor Adorno's line about totalitarianism and homosexuality "belong[ing] together" as a jumping off point, I interrogated the attraction gay men feel towards fascism, even as it, when enacted politically, has historically not only deprived homosexuals of rights but also sought to exterminate their way of existence.
I performed the piece in the lounge area of the theater, which was situated next to a bar, allowing the audience to feel relaxed and carefully brought into the performance. The setting also created an opportunity for us to break down the typical spectator-performer relationship between me and the audience. As indicated in the text, the audience was drawn into the performance, which culminated in a moment of sharing personal stories at the end. In doing so, I removed my own ability to control the piece thus creating an entirely democratic experience, where audience members participated not only with text I gave them (at the beginning of the show, to get them comfortable speaking in front of the audience), but also with their own words. The piece sought to break down the very power structures it was critiquing by denying a fascist presence—even from me as the artist—within the world of the performance.