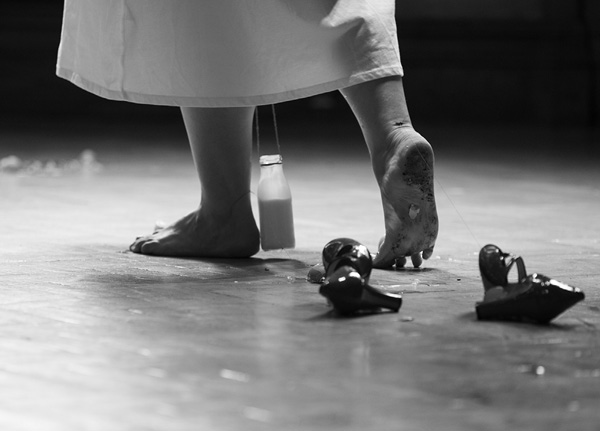 Julia Bauer
FOLLOWING IN//FOOTSTEPS OF
first performed on July 21, 2018
Braithwaite Hall, Croydon, London, UK
performed once in 2018
NATALIE RAMUS
Wales, UK
382863539i382863539n382863539f382863539o382863539@382863539n382863539a382863539t382863539a382863539l382863539i382863539e382863539r382863539a382863539m382863539u382863539s382863539.382863539c382863539o382863539m
natalieramus.com
FOLLOWING IN//FOOTSTEPS OF
NATALIE RAMUS
With societal prescriptive expectations of who we should be and how we should act, cognitive dissonance is seemingly inevitable. The failure to meet expectations of the other are unavoidable. The trauma of failure creates a space for transformation. In these moments of trauma, both through ruptured bodily experience and the notion of the nuclear family as a catalyst for madness, a new aspect of the self surfaces and becomes known. Just as a split in the surface of the body becomes filled with blood and flesh, so does the split in our sense of self become filled with an element from deep within.
"Following IN//Footsteps OF" is an attempt to reclaim space and time through acts of precarious tenderness, in an extended moment of rupture. Symbolic objects become conduits for connection with a disrupted experience of domesticity. Threads that pass through the surface of the skin allow for the body to extend beyond here and now. This installACTION questions the role of the female and all that encompasses; roles of mother, sister, daughter are societal constructs with given rules and expectations of both behavior and fertile purpose. "Following IN//Footsteps OF" aims to expose the weight of these expectations, whilst also dismantling them. Through destruction comes creation, and so this space will allow for a reconsideration through actions of resistance.
MY BODY IS NOT CURRENCY, NOR IS IT AN OBJECT TO BE OWNED OR PASSED FROM MAN TO MAN. MY BODY IS FLUID, AND WILD, AND ONE WITH THE TIDES OF THE MOON.
For a two-hour duration I paced an elliptical path through the space, similar to the path of the moon. A red shoe was attached to each ankle by a black suture held taut and stitched just above the Achilles tendon. The repetitive dragging sound that could be heard with each step was met by the chiming of a filled milk bottle suspended from my vagina. As I walked the milk spilled gradually over time; this meant that the pitch of the sound of the glass as it dragged across the floor increased. I held 90 eggs in my arms for as long as possible. Slowly over time they dropped to the floor leaving a trail of fractured bodies. These bodies were collected and sutured in small white pouches to my chest. As I threw each of these parcels over my shoulder as a way of moving forward, their weight was felt as the suture pulled tight.
Materials: 90 eggs, 6x menstrual fluid/resin objects, laid dining table for six, 6x sutures, one pair of shoes sutured to heels, tailor's scissors, one milk bottle filled with milk suspended from vagina.
Two-hour duration.