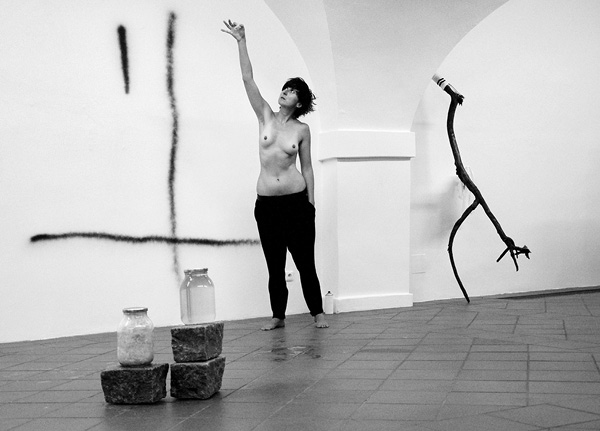 Ondrej Teply
UNTITLED (PARDUBICE)
first performed on July 17, 2018
Galerie meˇ sta, Pardubice, Czech Republic
performed once in 2018
MARITA BULLMANN
Essen, Germany
364813435i364813435n364813435f364813435o364813435@364813435m364813435a364813435r364813435i364813435t364813435a364813435b364813435u364813435l364813435l364813435m364813435a364813435n364813435n364813435.364813435d364813435e
maritabullmann.de
UNTITLED (PARDUBICE)
MARITA BULLMANN
I prepared this performance for the opening of a group exhibition in an old storage place of a castle. The traces of my performance remaining after the fact formed the installation I showed in the exhibition. Within my performance, I added three black sprayed lines on the wall. I used other materials including water, one feather, and a branch. During my performance, I turned the branch upside down and hung the white shirt that I was wearing on one of the little limbs at the end of the branch.
I'm more and more interested in using my performance to create a specially made installation for a specific space. In this installation, I complete actions and reinstall materials. I include the whole space and its peculiarities in my performance work. I use the space, materials, and the necessary actions in order to add to and reorganize its colors and images. The performance is a collage of actions and materials, which create a system of subtle relations and connections.
The figurative constructions are shaped by the interaction of my movements with the objects, and their forms and colors, and will stay in the space as an assemblage. During the performative process, various intersections appear in which unpredictable new images emerge. The materials and objects begin to talk in their own way as I treat them more like partners than objects existing solely for my use.
With this specific performance, I tried to question the facilities for storing material or immaterial (data storage) objects. I was searching for a pureness of image and actions that both extended the already installed work and worked in harmony with the given materials of the installation and their respective meanings.