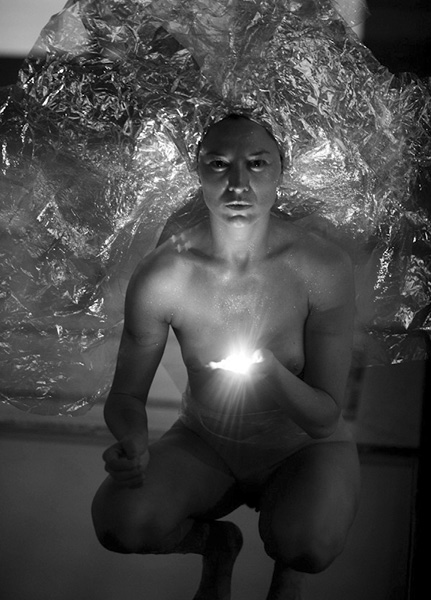 Caroline Alarcon Loor
DAR A LUZ
first performed on July 12, 2018
Brooklyn Museum, Brooklyn, NY
performed once in 2018
ARANTXA ARAUJO
Boris Kourtoukov, Daniel Zlotnik
New York, NY
345460009a345460009r345460009a345460009n345460009t345460009x345460009a345460009.345460009a345460009r345460009a345460009u345460009j345460009o345460009@345460009g345460009m345460009a345460009i345460009l345460009.345460009c345460009o345460009m
arantxaaraujo.com
DAR A LUZ
ARANTXA ARAUJO
"DAR a Luz" is a durational participatory performance that presents women as sources of light through the act of energizing an LED suit with a power source carried within my womb. The performance speaks up against gender oppression and engages with the public about the female body in space, through time, and within our communities. "DAR a Luz" was presented in a series called Cuerpxs Radicales, which responded to the exhibition Radical Women: Latin American Art, 1960–1985.
As a Mexican woman navigating through decades of normalized machismo and gender violence that has lead to a phenomenon known as femicides in Latin America, gender is one of the main themes of my investigation. By carefully training my body to carry and transmit energy, I gave light ("DAR a Luz" means "to give birth") to a complex circuit worn as a suit—alluding to women's creative capacity to give birth. With this action, I investigated the place of women through a moving meditation slowing down time, in relation to myself, those around me, and other artwork in the museum.
The battery and microcomputer that powered the LED suit were held inside of me, allowing me to shine brightly as the beacon of light that my mother, sister and grandmothers, amongst other women, have been for me. This action also presented a risk to my life. At any given moment, the battery could leak, heat up or even explode. Every moment could be my last, as is the reality of women in Latin America. Regardless of the danger, I chose to embark on this four-hour pilgrimage to engage in this conversation with the public as witnesses.
Through this experience, I activated mula bandha (root energetic lock) and held the battery tight, in order to give light/birth. My focus was on maintaining a cyclical feedback loop of energy. After three hours of meditative walking, I invited women to lay down with me on the floor of the museum to silently digest the journey we shared, contemplating time and space, noticing our breath and sensations, remembering those that have been lost. In times of darkness, as a community, we sought enlightenment.
The performance was a journey through the relativity of time as the body deteriorates, investigating ideas of resistance and perseverance. A sensorial experiment that presents the female body in space, and invites others on a participatory journey towards connection and self-reflection.