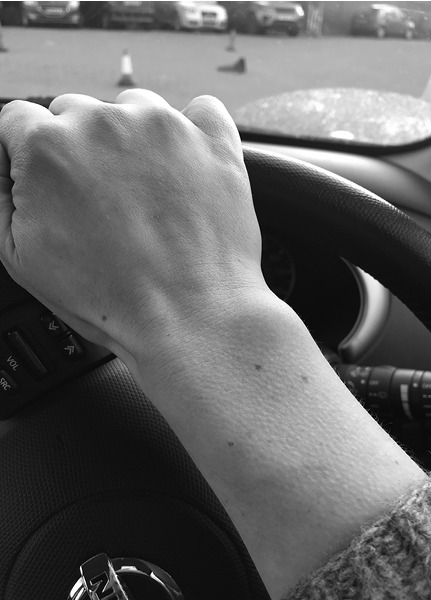 Sarah Boulton
TEARDROP IN THE PRIVATE GROUNDS
first performed on July 1, 2018
Near to the artist's home, Glasbury, UK
performed 40 times in 2018
SARAH BOULTON
Glasbury, UK
329509774s329509774e329509774r329509774r329509774a329509774b329509774e329509774e329509774h329509774@329509774g329509774m329509774a329509774i329509774l329509774.329509774c329509774o329509774m
TEARDROP IN THE PRIVATE GROUNDS
SARAH BOULTON
I found a small teardrop-shaped path in the private grounds just behind where we live. It provided a very good loop to walk baby Moss around and around to get him to sleep, and I loved the poetry of walking around a teardrop. The concrete is beautifully smooth, and there are some nice details on the grass that the path surrounds like mushrooms, tiny untouched daisies, and a pine tree that smells so strongly. Until I found it I had never seen this path or entered this place before.
I decided to try and walk this teardrop until my legs knew it step by step, until I could walk the exact path somewhere else with my eyes closed: the same shape and the same scale.
For the whole summer of 2018, whenever I could, I walked Moss to sleep around the private teardrop. It was a performance that was unannounced, although I would tell anybody about it who asked what I had been up to lately.
The piece addresses work as something that is absorbent rather than productive. While I walked I reflected on how to imbue something into a person. How to swallow or learn the shape of a teardrop, how to make it my own, how to be with it once learned, and how to give it off in the aftermath. Is it best animated or reanimated in the story, which includes that I learned to walk the teardrop? Does any of it demand to be seen? Can imbuing a performance piece into the body and mind of the performer allow for something else to be given off in its re-telling or re-writing? Here, there are interesting floating concepts that spark in the mind and are held in words like "private gardens," "teardrop path," "untouched daisies," or just perhaps in the relationship between something private and a teardrop.
The piece was also a way of giving myself a performance to be presented anywhere in the future. I can walk the teardrop.
Towards the end of the summer I was asked to stop walking by one of the residents of the large private home that was now being rented out. She yelled at me across the grass and woke up Moss.