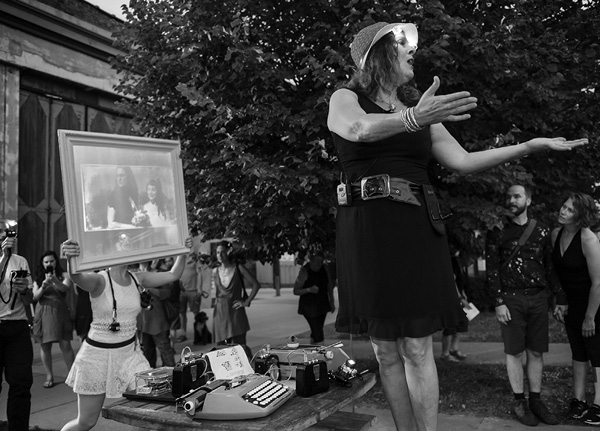 Marc Lemyre
BABEL-O-DROME
first performed on June 29, 2018
Wychwood Barns Park, Toronto, Canada
performed four times in 2018
COLLECTIF BUS 1.2.3
Toronto, Canada / Montreal, Canada
317932323i317932323n317932323f317932323o317932323@317932323c317932323o317932323l317932323l317932323e317932323c317932323t317932323i317932323f317932323b317932323u317932323s317932323131793232323179323233317932323.317932323c317932323o317932323m
collectifbus123.com
BABEL-O-DROME
COLLECTIF BUS 1.2.3
"Babel-o-drome" is an atypical ambulatory and choral play, bringing together interdisciplinary members of the collective, improvising choristers, and a participating public. The assembled group walks between multilingual interactive scenes presented in situ indoors and outdoors. The performance converges theater and multimedia to address the relationship between language, identity, and communication. The group collaborates with Christine Duncan, director of the Element choir.
The piece relies on several languages—oral, textual, visual, sounds, and programming—to create a specific style of scenic writing. It aims to provide significant artistic experiences on topical themes that bring together artists and public in meaningful contact. The piece can be considered an anti-media media piece. The group uses all kinds of video projections and digital devices to criticize media's stranglehold on reality.
The Element choir is our artistic partner. Their collaboration is important for Babel-o-drome. The soundscapes are amplified by their sound-making and their physical presence. The choir members also help to engage audience members and guide them on the path between the interactive scenes.
The public is invited to join in the artistic activities (singing, creating rhythms, sound textures and words, and giving short interviews). Audiences are also invited to explore interactive objects, including portable theremin-like "ooblek" devices and typewriters morphed into Morse coders.
The specificity of the show is made up of several elements: it's interactive, ambulatory, multimedia, and multi-lingual; it includes an improvisational choir and it focuses on public participation.