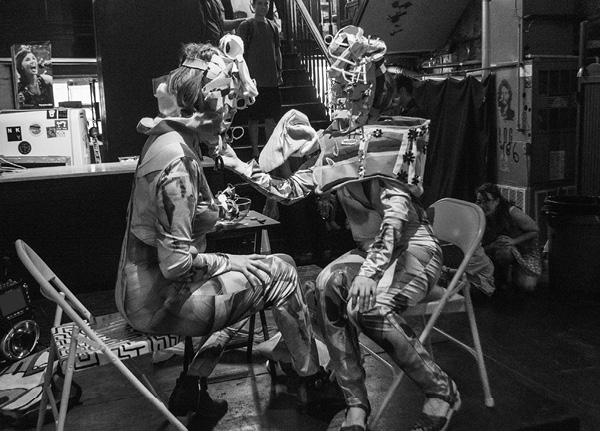 Clint Basinger
MY WORK IS RARELY THE SAME THING TWICE
first performed on June 22, 2018
BLDG, Covington, KY
performed once in 2018
LINDSEY WHITTLE (SPARKLEZILLA)
Molly Donnermeyer
Cincinnati, OH
286998127l286998127i286998127n286998127d286998127s286998127e286998127y286998127.286998127w286998127h286998127i286998127t286998127t286998127l286998127e286998127@286998127s286998127p286998127a286998127r286998127k286998127l286998127e286998127z286998127i286998127l286998127l286998127a286998127.286998127c286998127o286998127m
sparklezilla.com
MY WORK IS RARELY THE SAME THING TWICE
LINDSEY WHITTLE (SPARKLEZILLA)
Much of my performing is sketching ideas on the body, and putting two heads together. I often use the body as a starting point to make shapes and sketch ideas. For this performance, I had been thinking about using my face, and how we use our faces to communicate. My work is often made of materials that connect. I made hoods with holes to cover our faces made out of vertex, which is a material that will receive hook and loop tape. I invited my friend and fellow artist Molly Donnermeyer to perform with me. We had helped another of our dear friends bury his father the week before. Because of this I was in a vulnerable place, and performing with someone I trust, who has performed with me many times before, gave me strength. Molly and I cut and shaped pieces of One-Wrap Velcro and other hook and loop tape creations in the moment to build on each of our faces. We sat on folding chairs facing each other having a visual conversation through our actions. Between us was a table that had a bowl of One-Wrap and Velcro options and a pair of scissors. We reacted to one another intuitively composing with the hook and loop options on each other's faces. We had each prepared a movement that was familiar to us to explore in addition to building on our faces. I see letting a familiar movement from our life choreography evolve as continuation of the conversation in my work around abstract shapes. Molly's movement was crossing and uncrossing her legs and shifting in her seat. I focused on the action of pushing fabric through a sewing machine which is one of the actions I do the most but don't think about.
From Molly Donnermeyer's point of view:
Although at this point I had collaborated with Lindsey multiple times over the years, I believe this was the first time I worked with her in front of such a large audience. As we added pieces to one another, and I repeated my set of motions, I envisioned a kind of dialogue between the two of us. Sometimes friends have the same conversations over and over without really realizing it. By isolating a repeating series of steps we are alluding to an ongoing back and forth that builds over time.