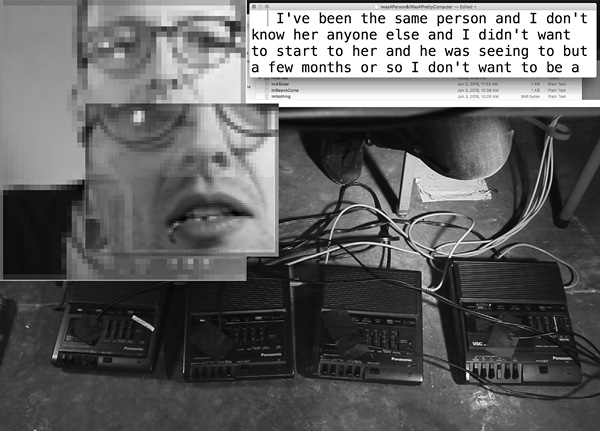 Jason Zeh
I WAS A PERSON AND I WAS A PRETTY COMPUTER
first performed on June 22, 2018
The Drugstore, Kansas City, MO
performed five times in 2018
JASON ZEH
Kansas City, KS
283025518z283025518e283025518h283025518.283025518j283025518a283025518s283025518o283025518n283025518@283025518g283025518m283025518a283025518i283025518l283025518.283025518c283025518o283025518m
jasonzeh.com
I WAS A PERSON AND I WAS A PRETTY COMPUTER
JASON ZEH
This sound-based performance utilizes computer-generated text, dense layers of sine tones, and custom hardware to control cassette transcription machines.
It employs self-designed software to transform junk electronics into a complex technological system that offers the promise of communication. However, the unpredictable behavior of these hacked machines makes communication impossible.
To create the piece, I collected thousands of secrets from internet forums and used that data set to train a machine learning algorithm to generate its own secrets. In the performance, I deliver these computer-generated secrets in a way that gives the illusion of vulnerability while actually erecting walls that prevent openness.
The work deals with intimacy, confession, and identity by delivering text that seems to indicate that the speaker is making some admission about their gender identity or sexual orientation. However, the content of the speech becomes progressively more and more unclear over the course of the piece until it becomes virtually impossible for the performer to accurately deliver it.
The following is a selection of computer-generated text used in the piece:
I'm not sure I can be him and I don't want to be happy to her and I can be high and starting to stay with my father and make me feel like I can be a long but on the family. I am so thengs and I can't see it.
All I'm a straight to me. I don't know what to do anything and I can stop this and they always seen and I don't know what I do not to be hard
I could help him to something to see him a bot and they always had a boyfriend. I wanted to but I can't stop him. I didn't know what I'm a secretly and I don't want to start the same time. I've been an asshole. I didn't want to st.
I'm a sister to me and I'm a lot of the single. I'm so servonse and I don't know what to be a bad of my life. I don't want to be about them.
and I don't know what to do anything. I still let me feel the sexusl of the same single one of my life and I can't have a second sexuol things and I don't know what they are not to be a bad and I don't want to be able to stop.