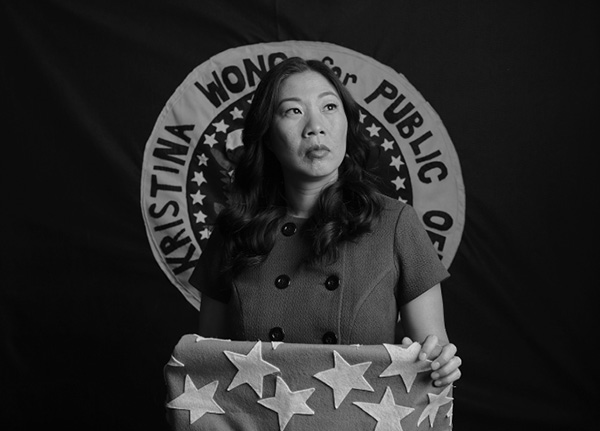 Tom Fowler
KRISTINA WONG FOR PUBLIC OFFICE
first performed on June 15, 2018
Grand Performances, Los Angeles, CA
performed ten times in 2018
KRISTINA WONG
Los Angeles, CA
246779242k246779242@246779242k246779242r246779242i246779242s246779242t246779242i246779242n246779242a246779242s246779242h246779242e246779242r246779242y246779242l246779242w246779242o246779242n246779242g246779242.246779242c246779242o246779242m
kristinawong.com
KRISTINA WONG FOR PUBLIC OFFICE
KRISTINA WONG
"Kristina Wong for Public Office" is a simultaneous performance art piece and real run for public office. As the artist and candidate of this performance, I inhabit the character of "Kristina Wong—a failed performance artist turned aspiring political leader" who at each iteration of this ever-evolving campaign performance deconstructs, exploits, and reanimates the theatrics that inspire civic participation, giving audiences a new and offbeat way to experience the democratic process. The project will be workshopped in a series of "campaign events" ("meet and greets," focus groups, and public addresses) that like actual campaign events, happen in real communities throughout Los Angeles and other parts of the US. This process will culminate in an evening-long "Campaign Spectacular" at Grand Performances in Los Angeles, an outdoor presenter of performing arts events, in August 2020, two months before the presidential election.
I've toured the world with original stage and guerrilla performances for seventeen years and I've realized my existing performance work can no longer compete with the shock of real life. Just last week a performance video I made was decried as "disgusting communist indoctrination for children" by far right conspiracy theorist InfoWars/Alex Jones. The line between performance art and real life has long since been erased. I'm at a critical juncture as an artist. How can my art continually comment on the state of the world when the state of the world is a way more consuming immersive theater piece?
The answer is to continue in the tradition of my past work that blurs real life and theater, this time creating a disruptive breach of reality—by shifting my commentary to the stage more people are watching—the political arena. Already in my initial creation phases of this campaign/performance, I find that there are many similarities between what performance artists and politicians do that I want to explore in my campaign—we put our lives out publicly, fundraise, and deliver on sometimes delusional promises.
As with my past projects, I have sewn most of my scenic elements and props out of felt which will lend itself to the playful childlike aesthetic of my performances.