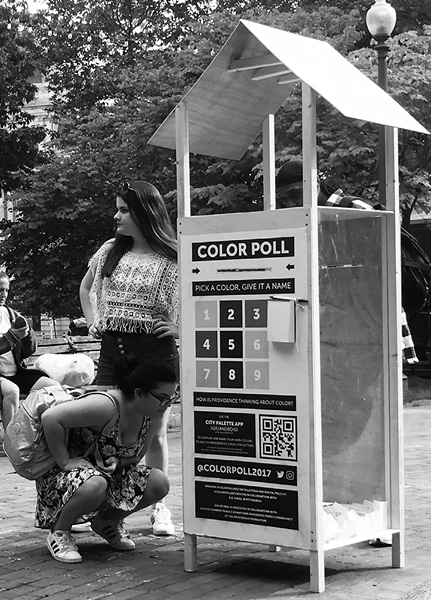 Benjamin Lundberg Torres Sánchez
COLOR POLL
first performed on June 9, 2018
Burnside Park / Kennedy Plaza, Providence, RI
performed twice in 2018
BENJAMIN LUNDBERG TORRES SÁNCHEZ
Chloë Bass
Providence, RI / Queens, NY

jointhebenjam.org
COLOR POLL
BENJAMIN LUNDBERG TORRES SÁNCHEZ
Inspired by Hans Haacke's MoMA Poll (1970), "Color Poll" is an interactive polling station that engages a temporary public as performers to collaborate on re/naming colors. As performance research, "Color Poll" seeks to capture the language and imaginaries that people use to assign names to colors.
"Color Poll" features a three-by-three grid of nine colors that might be described as earth tones or skin tones, labeled with numbers 1–9. Marqueeing this grid is the simple directive, "Pick a color. Give it a name." To engage, a person may write on a paper ballot the number corresponding to the color of interest and the name they would like to assign.
For the installation in Burnside Park in downtown Providence, "Color Poll" incorporated a QR code linked to Chloë Bass's City Palette app, encouraging further exploration. Through camera and location access, City Palette allows users to upload the colors from their own local environment. The app chooses a dominant tone to save from each user-submitted image. Users then assign their own names to the colors they upload.
Expanding the world of the performance beyond the polling site, vinyl signs showcasing each of the nine "Color Poll" colors and the QR code were installed around Burnside Park and Kennedy Plaza in downtown Providence, ushering in participation in "Color Poll" site and in City Palette's digital archive.