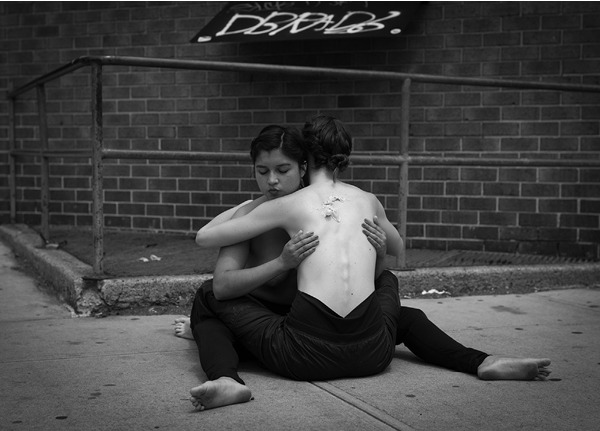 Marlène Ramírez-Cancio
PRETTY (BUBBLEGUM) TRASH
first performed on June 8, 2018
Street Intervention NYC: Corner of Essex and Grand St, New York, NY
performed once in 2018
SARA KOSTIC / SALOMÉ EGAS
Belgrade, Serbia / Brooklyn, NY / Quito, Ecuador
218586102a218586102r218586102b218586102o218586102r218586102921858610292185861029218586102@218586102g218586102m218586102a218586102i218586102l218586102.218586102c218586102o218586102m
sarakostic.com
PRETTY (BUBBLEGUM) TRASH
SARA KOSTIC / SALOMÉ EGAS
"Pretty (Bubblegum) Trash" deals with the rapid change of urban environment: gentrification that affects the sensibilities of a place and has fallout in social and cultural diversity.
"Pretty (Bubblegum) Trash" took place on the corner of a busy intersection, with the distant view of the pink building in contrast to the new urban structures. The duration of the piece was 40 minutes.
During the piece, you can see the two bodies intertwined, representing an oddly placed construction. We are chewing the sweet and pink bubble gum. When the bubble is made, we attach it to each other's back, making it into an unfitting structure. With the minimalist, repetitive movement we are making an almost invisible change in our bodies' appearance.
We are telling the story about the transformation of our cities, our neighborhoods. How we change the landscape of the urban environment into something "sweet" without deeply considering the consequences. We need to recognize the diverse ambiances of the city. Cultural and emotional zones cannot be determined and dismissed by their architectural or economic conditions.
Deformation of the space deforms us as well. We are not only the window-shoppers in our environment, we are part of it, shaped by it as much as it shapes us.