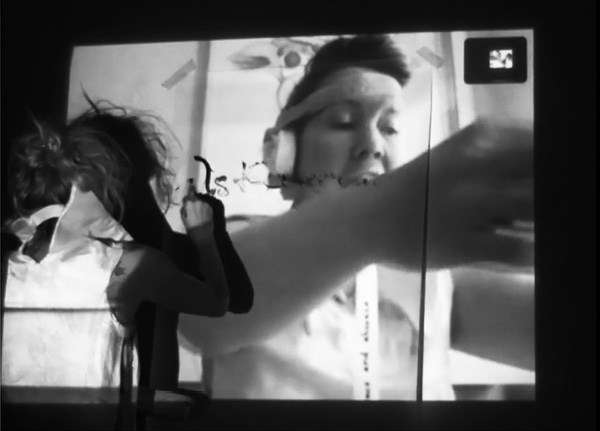 Daniela Ehemann/Carron Little
H EAR Z EI T
first performed on June 8, 2018
Berlin Performing Arts Festival, Berlin, Germany / Chicago, IL
performed once in 2018
DANIELA EHEMANN / CARRON LITTLE
Berlin, Germany / Chicago, IL
214832651e214832651h214832651e214832651d214832651a214832651n214832651@214832651g214832651m214832651x214832651.214832651d214832651e
ehemann-little-collaborations.tumblr.com
H EAR Z EI T
DANIELA EHEMANN / CARRON LITTLE
The project began with us collaborating on a poem together. After working on the poem, we then devised a performance piece using Skype and projection to develop the performance. Carron created a mouth contraption so she could pull the poetry out of her mouth. The poem explored the ideas of presence and absence in relation to our subjective identities. As the image of Carron's performance was projected onto the wall, Daniela performed the poem live, experimenting with vocal recitation and movement as acts of drawing/writing. The text was written over and over again in black paint across Carron's mouth as an act of erasure that highlighted Daniela's presence and Carron's digital absence. The performance ended with Carron exposing a false ear to the screen and smashing a blood-filled egg with the word "existence" written on it.
Our collaborative practice focuses on a dialogue between Berlin and Chicago, considering urban contexts and the architectural influences between the two cities. Our latest collaborative work grew out of a dialogue and was inspired by Dürer's concepts that the precision of thinking is linked to the precision of drawing. The connection between thought and the act of writing became an active tool we used to perform the poem while thinking about the relationship between real and virtual space. Our performative work depends on digital technology to become present, using Skype as a material to explore presence and absence.
The collaborative poem oscillates between an esoteric discourse that draws directly from our personal experiences of human relationships, and Brechtian devices which mirror the stage directions that are being reflected on the screen.