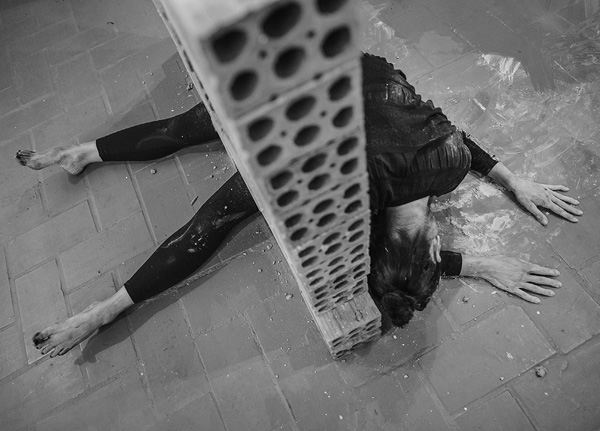 Guido Mencari
EVERYWHERE/NOWHERE
first performed on June 8, 2018
Espai Souvenir, Barcelona, Spain
performed once in 2018
MARIANA ROCHA
Belo Horizonte, Brazil
210769274m210769274a210769274r210769274i210769274a210769274n210769274a210769274r210769274o210769274c210769274h210769274a210769274@210769274w210769274e210769274b210769274.210769274d210769274e
mariana-rocha.com
EVERYWHERE/NOWHERE
MARIANA ROCHA
I intend to portray the female body, my body, in a context of death, torture, patriarchal imprisonment, and vulnerability. And investigate the circuits that operate in connection with the production and circulation of death and its relation to the political economic history of colonization, social violence and extreme poverty. In particular, the body, robbed of its own control, which no longer belongs to itself and has become an object in the hands of others, whether in the hands of the state or in the hands of a crime.
In "Everywhere / Nowhere," I trace with a black chalk the white walls and floors of the gallery and challenge myself in the ritual construction of a brick and cement wall that blocks and divides my own body into two parts. Movement and immobility coexist in the same space.
On the one hand, an abstract and dancing map, with lines and curves, draws an ephemeral memory of the walks and movements of the artist's body in the space. On the other hand, the construction of the wall is transformed into a slow and dramatic three-hour ritual. The impossibilities of putting ourselves in the place of others. In this case, in the place of victims of violence. But the body that appears makes other bodies appear. The disappeared bodies during the dictatorship, bodies buried in mass graves, victims of femicide, censored bodies, bodies punished for not meeting gender norms. The body that appears, which appears before others, cites and reiterates other apparitions, other previous presentations, materializes other presences and corporealities.
The wall becomes a metaphor of division between the here and there, between the proximity of the self and the distance of the other, between life and death.
Through my actions, I faced the impossible distance between myself and the knowledge of the non-being. This perpetual search materializes in my body that remains immobile facing a wall that does not allow me to advance and penetrate. After a long fight with the wall, I manage to extract myself from it. Presence and absence, impossibilities to cross, and that are, at the same time, everywhere and nowhere.