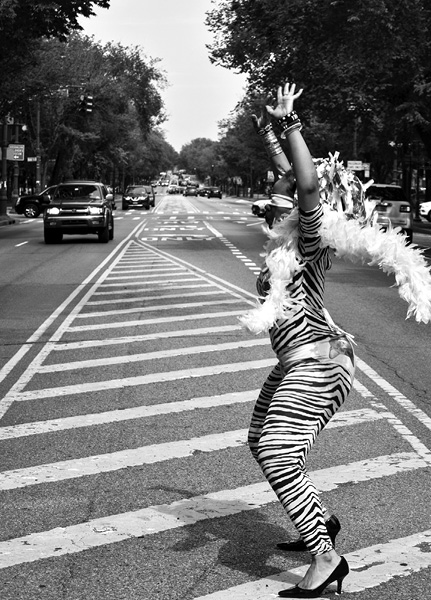 Jennifer Coard
IF KEISHA JUMPED OFF A BRIDGE, WOULD YOU DO IT TOO?
first performed on June 3, 2018
Medium Tings, Brooklyn, NY
performed once in 2018
AYANA EVANS
New York, NY
198636650a198636650y198636650a198636650n198636650a198636650e198636650v198636650a198636650n198636650s198636650s198636650t198636650u198636650d198636650i198636650o198636650@198636650g198636650m198636650a198636650i198636650l198636650.198636650c198636650o198636650m
ayanaevans.com
IF KEISHA JUMPED OFF A BRIDGE, WOULD YOU DO IT TOO?
AYANA EVANS
This performance was part of my first solo exhibition ever. The audience was given ice cream, fabrics, and feathers that matched my outfit. I then blindfolded myself and began doing jumping jacks in the street across from the gallery stoop. After I returned to the sidewalk, the audience was asked to hold hands and gather around me. First they were asked to toss chicken rub seasoning on me as I did 50 sit-ups. I then completed 100 push-ups as the audience stood around me holding hands. Some joined in to cheer me on. On my command the audience ran toward me and observed me up close intermittently. This continued until the push-ups were completed.
Endurance is part of the process. I am usually thinking of it as a metaphor for how hard I work as a Black woman to make it in this world. Endurance while wearing heels makes the action gendered and harder to complete. Repetition is a big part of my practice. I am exploring themes of territory (and feminist takeover of territory), visibility, and accessibility in art (which can also be looked at in terms of hierarchies and class systems). I am considering what it means to be a Black body in an art space and what it means to be that same body on the street in Brooklyn. I am always challenging the viewer to look at my black femme body with respect no matter what I am wearing. My interactions and participation with audience members throughout performances are designed to break traditional boundaries between the viewer and performer. The physical struggles in my work represent Black pain, Feminine pain, and Universal/Personal pains like heartbreak. This was one of many performances within my series #operationcatsuit.