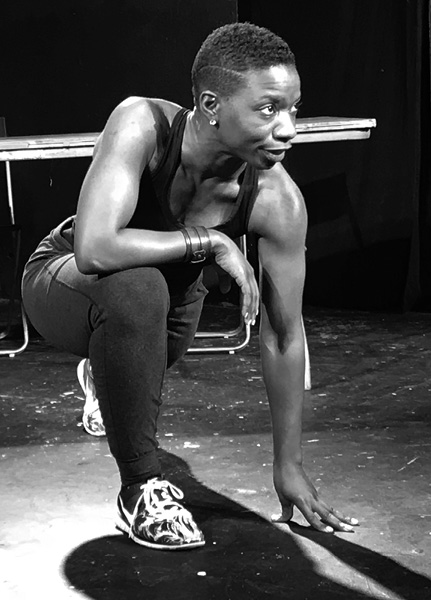 Waltzing Mechanics
ALL ABOUT CASTER
first performed on June 1, 2018
The Frontier, Chicago, IL
performed twice in 2018
KAT MUSTATEA
Juan Castaneda, Lillian Baldwin, Eliza Fichter, Jyreika Guest
New York, NY
179544645k179544645@179544645m179544645u179544645s179544645t179544645a179544645t179544645e179544645a179544645.179544645c179544645o179544645m
mustatea.com
ALL ABOUT CASTER
KAT MUSTATEA
"All About Caster" is a play that tells the story of Caster Semenya, the South African runner who made international headlines in 2009 when she had to undergo gender verification testing.
At the 2009 World Championships in Berlin, nineteen-year-old Caster Semenya was a promising unknown who had already beaten the South African record for 800 meters in the qualifying rounds. She won the title by nearly two and a half seconds at 1:55:45. The archival footage shows her barreling far ahead of all the other runners. The world took notice immediately, but the International Association of Athletics Federations, in a breathtaking breach of Semenya's privacy, let slip that she had undergone gender verification testing—with the results still pending. Overnight, Semenya's name became entangled, not with her astonishing achievement on the racetrack, but with lurid speculation about her gender. Was she or wasn't she a she? What was she exactly?
Most disturbing about Semenya's story is that it keeps happening. We don't ever ask whether male athletes are male enough to compete professionally, yet female athletes are scrutinized based on arbitrary criteria for femininity. Is a "higher level of male hormone" any different of a physical advantage than Michael Phelps' perfect swimmer's build or Usain Bolt's long legs? Reporters rushed to quote family and school friends back in Semenya's remote home village in Limpopo. In account after account, what was missing from the conversation was Caster Semenya herself.
I felt a visceral reluctance to "imagine" anything at all about what she might have been thinking or feeling in 2009 — and thereby to contribute to the speculative noise about her. Instead, I decided to let Caster Semenya speak for herself, in her own words. The play I ended up writing is what I might call a "non-fiction drama"—it represents a mash-up of quotes from newspaper and magazine articles, television interviews, and video footage available publicly. My work in "writing" this play has been to weave texts together to tell Caster Semenya's story dramatically by using the words Caster Semenya herself has spoken.