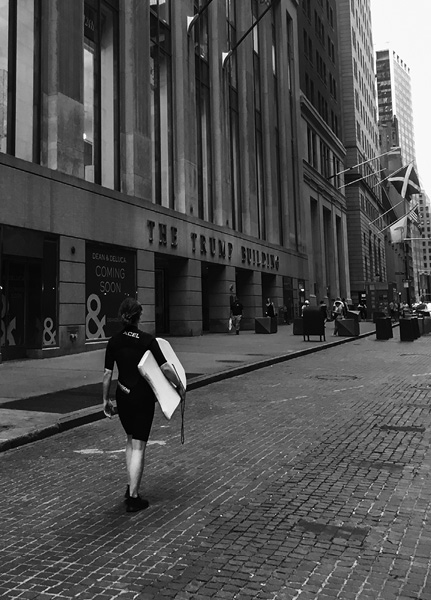 Susanna Lee
PROVISIONS FOR BUOYANCY: ON THE EAST COAST
first performed on May 26, 2018
The Tidal Basin and East Potomac Park, Washington, DC
performed eighteen times in 2018
KATIE KEHOE
Alexis Iammarino
Washington, DC
163032650k163032650t163032650@163032650k163032650a163032650t163032650i163032650e163032650k163032650e163032650h163032650o163032650e163032650.163032650c163032650o163032650m
provisionsforbuoyancy.com
PROVISIONS FOR BUOYANCY: ON THE EAST COAST
KATIE KEHOE
Over three weeks last spring, I produced a site-specific performance series that involved me wearing a wetsuit and carrying a bodyboard (which I made previously using salvaged materials) while walking for extended periods through areas that would be flooded if the sea level were to rise by six feet.
I produced a total of eighteen durational performances in the following ten states and two provinces: Washington, DC; Baltimore, MD; Wilmington, DE; Atlantic City, Point Pleasant, and Jersey City, NJ; Chelsea, The Financial District, and Dumbo, NY; New Haven, CT; Providence, RI; Boston, MA; Hampton Beach, NH; Rockland, ME; Saint John, NB; and Halifax, NS. Each performance was documented with photo and video.
While the majority were solo durational performances, the US portion of this project culminated in Rockland, ME, where I co-presented a social practice workshop, two artist talks, a solo durational performance, and a group performance action.