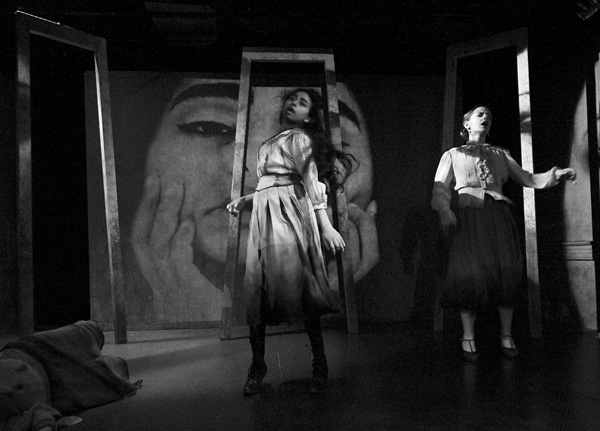 Carly J. Bales
LIFE OR THEATRE?
first performed on May 24, 2018
Annex, Baltimore, MD
performed seventeen times in 2018
CARLY J. BALES
Charlotte Salomon, Alayna Baron, James Young, Evan Moritz
Baltimore, MD
147956555c147956555a147956555r147956555l147956555y147956555b147956555a147956555l147956555e147956555s147956555@147956555g147956555m147956555a147956555i147956555l147956555.147956555c147956555o147956555m
carlybales.com
LIFE OR THEATRE?
CARLY J. BALES
"Life or Theatre?" is a performance piece inspired by the life and visual art of Charlotte Salomon, an under-recognized and prolific artist of early twentieth century Berlin. Using her 800+ autobiographical paintings as a springboard, "Life or Theatre?" employs Salomon as an avatar to engage contemporary issues of feminism and self-identification within the backdrop of an increasingly oppressive society. In the piece, Salomon tackles and defines her identity on her own terms, battling her supposed social inheritance and fate, and confronting what it means to create in a destructive world.
Swirling disjointedly through Salomon's life, "Life or Theatre?" acts as a magpie's nest, drawing itself into being from Salomon's paintings, restructurings of 19th and 20th century musical composition, fleeting diaristic musings, expressionist dance, and experimental cinema. The text was enacted by six performers in multiple roles and derived from a collage of post-War Eastern European poetry, early 20th century philosophy and psychology, contemporary writing about Salomon, and text from the source paintings. The goal of the work was to create a rich, multidisciplinary performance that submerged audiences into the subconscious of Salomon while revealing the deeper existential underpinnings of the work which remain just as urgent today as they were nearly a century ago.